It is on record that the nationwide #EndSARS protest was not just an agitation for an end to police brutality against the youths, bad governance but also a call for youths inclusiveness in governance.
It is important that the leaders and stakeholders in Ohafia LGA politics alongside the delegates, seize this opportunity presented by the forthcoming LGA elections to gratify the youths of Ohafia Local Government council by voting for a young candidate both at the party primaries and at the General elections proper.
X-RAYING THE ASPIRANTS.
NAME: Hon Engr George Nnanna Kalu
AGE: 66 yrs
HIGHEST QUALIFICATION. B.ENG
He is a respected Chief in Abiriba who retired traditionally from active service in the year 2018. He was one time Commissioner for works,
Commissioner for Housing,
Commissioner for Agriculture, also a two term Commissioner in ASOPADEC(6 years), has been Special Adviser to the Governor on several occasions, presently a Special Adviser to Governor Okezie Ikpeazu, a position he may or may not have resigned from considering the way politicians behave in this nation. With his age, experience and qualifications he should not condescend so low to contesting for position his first son should be seen aspiring for. This to me is an error. I would rather want to see him running for Senate position, Governorship position or at least House of Representative position.
NAME: Hon Edward Kalu Okocha
AGE: 40yrs
HIGHEST QUALIFICATION: BSC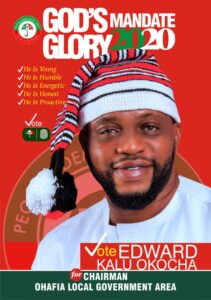 Hon Edward Kalu Okocha is a young, educated, humble and loyal natural youth leader at his youthful age of 40 and enjoys the support of not just the youths but also the elders.
He is happily married with children and is self employed with a thriving business.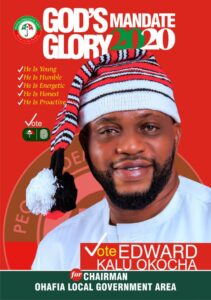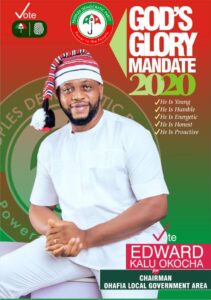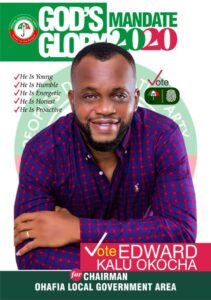 He is the youngest of all the Aspirants with a record experience of the system and governance which will be of good advantage for him in administration of the local Council if he emerges.
He is seen as the most consistent of all the Aspirants in the party, his loyalty, commitment and service to the party and major leaders and stakeholders are added advantage to him in his quest to lead the most educated and politically aware LGA in Abia state.
If youthful age is a minus, then that might just be his weakness, but am sure that won't count as we are clamouring for youth inclusiveness in governance.
NAME: Hon Mayor Egesigh Eze Azu
AGE: 58yrs
HIGHEST QUALIFICATION: SSCE
Mayor Egesigh Eze Azu, with little or no education has done well in his business, a hotelier and entrepreneur. He has done so well for himself in the business sector.
He was elected Deputy Local Government Chairman in 2016 with hope that he will bring his wealth of business experience into governance to help the Chairman transform the local Council.
But independent assessment of his performance rated him below average, media shy, ICT and social media non compliant.
It is worrisome of how he intend to turn these weaknesses within the shortest time left before the election, because education, ICT, media complaince are needed to drive a 21st century economy and ICT servy generation. From my recent findings, some notable elites from Abiriba are vehement in their opinion that an uneducated fellow has no business representing a community that parades a legion of cerebral academics both locally and internationally.
NAME: Dr Bassey Okorafor Ukiwe
AGE: 56 yrs
HIGHEST QUALIFICATION: M.B.B.S
Dr Bassey is a 56 years old succesful Medical practitioner turned politician. He has done well in the field of medicine and owns a private hospital though located in River State.
Political pundits refers him as being inconsistent in politics, always moving from one party to the other. His latest move was from APGA to PDP on 27th of May, 2018.
Being new in PDP and with his infinitesimal contributions to the party over the years, it is worrisome if the ruling party renowned for their emphasis on party loyalty, commitment and consistency will cede their ticket to him.
Worrisome again are his onslaught against PDP while he was in the opposition party during successive elections.
NAME: Engr Samuel Onwuka
AGE: 50 yrs
HIGHEST QUALIFICATION: B.SC
A promising and successful investment banker with chances of climbing the banking ladder.
He is relatively young and presently serving as a Special Adviser to the Governor on IGR . It is expected that he will bring his experience in investment banking to bare as a Special Adviser to the Governor on IGR, attract investments that will help increase our IGR and present it as a prove of his capability to deliver in politics. His record of performance in regards to his current position is not in the public domain.
Also, Engr Onwuka is relatively new in politics and PDP, and not very known in Abia politics. He is regarded as a new face in Ohafia LGA politics and this will to a large extent affect his aspiration if he doesn't work so hard. Also coming from a community in Abiriba that has the least voting strength which every party will consider before choosing a candidate, as party rely so much on votes from the constituency of a candidate to shore up their total votes will be another big challenge for his aspiration.
NAME: Chief Ndubuisi Eme (Ugo1)
AGE: 50yrs
HIGHEST QUALIFICATION: 50 years old Chief Ndubuisi Eme, with little or no education, renowned for his active involvement in the government of the former governor of Abia State, Dr Orji Uzor Kalu. Presently a Special Adviser to the Governor, whose company also holds the contract for Environmental sanitation of a section of Umuahia Town, a task the public can best judge his performance on based on the regular appearance of the area he is covering which doesn't tell well of the present government.
Many pundits believe that some of the Aspirants doesn't have the temerity, decorum, and character to superintend over a people believed to be decent and orderly.
A local council that can boast of the likes of renowned economist Dr Kalu Idika Kalu, , Prof Anya Oko Anya, Dr Anagha Ezikpe, Retired Commodore Ebitu Ukiwe , Rt Hon Ude Oko Chukwu( PhD, a renown Accountant and Deputy Governor of Abia State), Prof. Obasi Igwe, Prof. Okali, Prof Mpka Agu Mkpa, Chief Ukpai Agwu Ukpai(PhD) etc should be able to present a young, educated and experienced Chairman who can be groomed for future leadership roles to be able to take over from the elders in the future.
It is my belief and that of every Ohafia LGA youth that a young person should be the Chairman of the local Council this time around, and we have capable young men to occupy that seat who have also indicated interest in all political parties.
The choice is ours, our choice today is our lots tomorrow…
(NB: the age merging of error, + or – 2 )
FRANK KALU
(A Political commentator writes from Agborji Abiriba)