Aba is known for so many things but few things stands out and one of them is production of shoes and leather bags..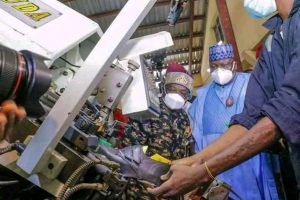 Before Gov Ikpeazu majority of shoes produced in Aba are normally tagged Made in Italy, China depending on the specific location it is been exported to, to some removing Aba will make the product sale, while to some they where never proud of the brand "Made in Aba" due to low marketing strategy, the demand was high but for it to move it mustn't be given the brand "MADE IN ABA".
On 29th of May 2015, a gentleman, a rebuilder was elected to pilot the affairs of his people and sell the handwork of his people to the public and that man is " DR OKEZIE VICTOR IKPEAZU" the chief Marketing officer Made in Aba, the process of introducing Aba to the global market started with the Governor maintaining a 100% use of made in Aba goods, from cloth to his shoes, delivery more than 50,000 pairs of military boots, delivery of boots to Nigeria Rail way cooperation and training of 30 Abia shoe makers in China to learn Automated shoe Making, the young energetic Abians took away the jobs of the Chinese right at their door step, this singular act gave birth to what we all know today as "Enyimba Automated shoe Company" ENASCO.
Ladies and Gentlemen I present to you #Rebuilder002 "Enyimba Automated Shoe Company" ENASCO, a very strong punch from Dr Okezie Victor Chibuikem Ikpeazu.
#Rebuilder365
#Rebuilder001
#Project001
Video