Empress Njamah's ex-lover who released her nudes videos online, Josh Wade has been charged to court in Liberia.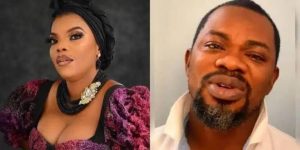 Josh Wade whose real name is Nicholas Jack Davis, has been charged to court in Liberia.
The blackmailer in a trending video on social media, was seen taken to court in handcuffs.
Nicholas is facing charges including rape, sexual assault, simple assault, felonious restrain, terroristic threat, criminal coercion, menacing, robbery, armed robbery, theft of property, forgery or counterfeiting and disseminating.
Njamah's ex-boyfriend, who is a Liberian resident, was arrested a few weeks ago for blackmailing several women in Liberia.
The Liberian National Police, while confirming his arrest during a press briefing shared on social media in April, revealed that twenty Liberian women have also complained against the suspect who operated in Nigeria with the name Josh Wade and carried out a similar act against actress Njamah.
The Liberian Police Chief confirmed that the suspect is identified as Nicholas Jack Davis and not Josh Wade he used in Nigeria.