The eight-year administration of immediate past Governor of Anambra State, Chief Willie Obiano has little to show for a humongous N1.61 trillion and N140 billion it borrowed, according to a Special Report released earlier today, Friday, March 18, 2022, by the International Society for Civil Liberties and Rule of Law (InterSociety).
Obiano, who left office yesterday, is presently in the custody of the Economic and Financial Crimes Commission (EFCC). He lost his immunity following his exit from office and was arrested last night at the Murtala Muhammed International Airport, Lagos, as he attempted to board a flight to the USA.
Compiled by Intersociety's principal officers Emeka Umeagbalasi, Board Chair' Chinwe Umeche Esquire, Head, Democracy and Governance; Obianuju Igboeli Esquire, Head, Civil Liberties and Rule of Law; and Chidimma Udegbunam Esquire, Head, Campaign and Publicity, the Special report was released from the group's head office in Onitsha, the commercial hub of Anambra State.
Intersociety in the Special Report demanded an independent audit of the Obiano Government. Below are excerpts of the Special Report: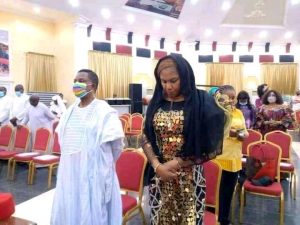 Under Obiano in Sept 2014, a supplementary budget of N13.8B was passed and spent and in the past eight years of his out-gone Government or between March 2014 and March 2022, a total of N1.118trillion was budgeted and lavishly spent including: supplementary budget of N13.8B in Sept 2014 and main budgets of N164.4B in 2015, N101.4B in 2016, N115.5B in 2017, N166.9B in 2018, N157.1B in 2019, N114.9 in 2020 (cut down from N137.1B), N143.7B in 2021 and N141.9B in 2022. Anambra State under Obiano also inherited total cash savings of N75B from former Gov Peter Obi who inherited total cash deposits of N13.5B in March 2006 from former court ousted Gov Chris Ngige. The inherited N75B cash deposits had included: N48.6B local cash deposits in 12 local banks and N26.5B or $156M dollar deposits in three banks (Fidelity, Diamond and Access).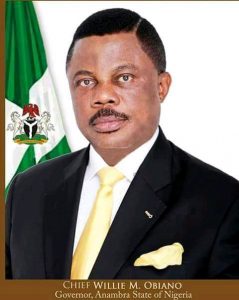 The cash of N48.6B was evidentially deposited in 12 banks as follows: (1) Access Bank N1.82B, (2) Diamond Bank N15.8B, (3) Enterprises Bank N2.68B, (4) First Bank N2.15B, (5) Fidelity Bank N21B, (6) First City Monument Bank N892M, (7) Keystone Bank N1.14B, (8) Skye Bank N172M, (9) Sterling Bank N606M, (10) United Bank for Africa N1.31B, (11) Unity Bank N309M and (12) Zenith Bank N642M. Out of N2.15B deposited in the First Bank, N1.8B was deducted months after the Obi's exit following a Garnishee order secured from a High Court of Justice by the aggrieved workers of the State Water Corporation as a result of their disagreements with the Obi Government over the workers' unpaid remunerations. Anambra State under Obiano also incurred total debts of N120B-N140B-comprising foreign debts of $111m or N47B (at official exchange rate of N416 per $US) and domestic debts of N65B-N85B including loans borrowed for "budget support, infrastructural development and bailouts" owed to Federal Government of Nigeria.
It is also on record that the total debts accrued to the State under former Gov Peter Obi, according to the Debt Management Office Report of 30th June 2014 was N12.2B comprising local debts of N9B and foreign debts of $45m or N3.2B at the then official exchange rate of N195 per $US. The 21 Local Government Areas in the State had also between March 2014 and March 2022 received not less than N300B from the Federation Account. As at January 2019, monthly average of N3.5B was allocated to the 21 Local Government Areas in the State while the State received N4.4B. Apart from running the State Local Government System with appointed transition committees since Ngige and Peter Obi's eras, the out-gone Government of Obiano had also relied on Section 162 of the Constitution (State-Local Government Joint Account) to corner and spend substantial part of the LGA Federal Allocations which never reflected in the State's budgets since Sept 2014. In all, the out-gone Government of William Obiano had between 31st March 2014 and 16th March 2022 received and lavishly spent over N1.61trillion or over $4billion (at N416 per $US) and they included cumulative budgets of N1.118trillion, inherited cash deposits of N75B, borrowed loans of N120B-N140B and Local Government funds of N300B.
*What Ngige And Obi Left*
While former court ousted Gov Chris Ngige left the State in March 2006 with cash deposits of N13.5B, borrowed loans of over N40B and contractual obligations of over N35B as well as unpaid retirees and active workforce social benefits amounting to N35B majorly inherited from 1992 and afterwards; the former Peter Obi Government left total cash deposits of N75B, borrowed debts of N12.2B and investments worth over N27B in eighteen quoted companies. The Obi Government also cleared over 95% of the inherited retirees and active workforce benefits amounting to over N35B. In the area of contractual obligations, all completed projects including road construction and rehabilitation were fully paid for and ongoing others with their saved and paid mobilization funds left for the then incoming Obiano Government. Workers remunerations were not only fully paid but also savings were made to take care of others in coming months.
Billions Of Naira Contract Debts & Unpaid Workforce Emoluments Undisclosed:
Government debts are divided into 'statutory and non-statutory debts'. While statutory debts include borrowed local and foreign loans, non-statutory debts are debts owed to contractors especially for completed and certified projects as well as others involving "percentage completion" such as percentage of awarded contracts completed before abandonment. Other non-statutory Government debts are 'judgment debts' or court ordered payment of debts arising from executed and completed projects. The rest are debts accruing from active and retired workers' unpaid social benefits such as allowances, gratuities and other emoluments. Therefore, in the case of the out-gone Obiano Government, there are publicly undisclosed debts (non-statutory debts) associated with the above mentioned, most likely running into tens, if not hundreds of billions of naira. For instance, it is an undeniable fact that billions of naira (in tens or hundreds) are owed to contractors that handled several road projects and those under "percentage completion" before their abandonment. The above position of Intersociety excludes the contractors handling the on-going road (if any) and other critical infrastructural projects. It is also a fact that billions of naira are owed to active and retired workers at the State and Local Government levels in the State. This is with particular reference to arrears associated with their numerous leave and promotion allowances and the retirees' gratuities mounting in the State under Obiano since 2017. Most, if not all the recently appointed Permanent Secretaries have also reportedly not been motorized.
Independent Audit Of The Out-Gone Obiano Government Required:
It is therefore our informed advice to new Gov Soludo to independently audit the out-gone Government of William Obiano so as to be on the safe side and let Anambra People know what he truly inherited and level of rot therein. The findings of the independent audit must include: how much cash deposits was left, how much is being owed to contractors for completed projects and those under percentage completion before abandonment and how much is the contract value for ongoing projects in critical infrastructures (if any). Others are: how much is the judgment debts incurred under Obiano, how much foreign debts is the State presently owing, how much local debts is owed, how much is other debts such as budget and infrastructural support and bailout loans owed to Federal Government, how much retirees' benefits is owed at the State and Local Government levels, how much emoluments is owed to active workforce at the State and Local Government levels. The independent audit under demand shall also contain general state of infrastructural and social development under the out-gone Obiano Government.
Safety Of Anambra's Solid And Liquid Investments
The People of Anambra State have remained in the dark under the out-gone Obiano Government concerning the safety of the State investments valued at over N27B principally secured under the Obi Government. Till date, the fate of the multibillion naira investments is undisclosed and unknown. The State's multibillion naira investments in 18 quoted companies and institutions within and outside the State as at 2015 are: (a) Nigerian Independent Power Project (NIPP)-N9B, (b) Orient Petroleum PLC-N4B, (c) Onitsha Hotel-N1B, (d) Agulu Lake Hotel-N1B, (e) Awka Shopping Mall-N900M, (f) Nnewi Shopping Mall-N600M, (g) Onitsha Shopping Mall (Shoprite)-N1B, (h) INTAFAT Beverages or Hero Breweries, Onitsha (now International Breweries in Ogun State), (N3.5B +$10M), (i) Onitsha Business Park 1 & 2-N600M, (j) Anambra State Independent Power Generating Company Ltd-N250M, (k) E-Force Ltd-N126M, (l) Emenite Ltd-N750M, (m) Quoted Investment Portfolio-350M, (n) NSIA-Anambra State Contribution (State +LGA)-N1.5B, (o) Anambra State Investment with Bank of Industry to support SMEs in the State-N500M, (p) Investment with Bank of Industry to support Micro Credit Bank in Anambra State-N500M, (q) Investment with Bank of Agric to support Anambra Farmers- N480M and (r) Commercial Agric Scheme-N1B; all totalingN27B.
Under Obiano, Attracted Critical Foreign Investments Flipped Off
Under Obiano's watch in August 2018, the State lost one of its hard fought and attracted multibillion dollar foreign investments-INTAFAT Beverages-brewers of 'Hero Beer' and its associates. The giant brewery, now called 'International Breweries', had flipped off in August 2018 and moved in Ogun State where its owners built a world class plant worth over $300M or N90B which instantly attracted thousands of graduate and tens of thousands of unskilled employees. Today, its Onitsha Plant has become 'a sales depot'. Three times the out-gone Governor was approached for a commensurable parcel of land and State support and three times he responded to them in strange and unfriendly language forcing them to look elsewhere. Also almost at the same period, the Golden Oil Industry, a thriving Indian Company in Ogbaru, flipped off the State and settled industrially in Enugu State."
For publication of your news content, articles, videos or any other news worthy materials, please send to newsmirror14@gmail.com. For more enquiry, please call +234- 808-050-9464 or whatsapp. To place advert, please call +234- 808-050-9464.