Tunnel End and Rock waters Integrated Service Ltd, one of the leading construction companies across the country has once again emphasised that the core mandate of the company is service delivery, stressing that their books are open for any probe, adding that there is no panic as all her works are properly documented.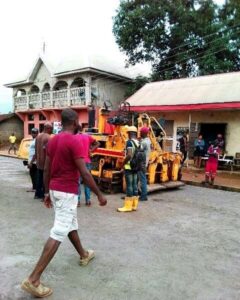 The company made this assertion through a top management staff at the company's office headquarters in Osisioma Aba, Abia state.
He said that the company was never sealed as reported by some sections of the media but stated that the visit by the men from the Economic and Financial Crimes Commission (EFCC) is geared towards accountability and to ensure quality service delivery and above all commitment to heardwork and not of any public investigation as been rumoured by members of the public.
The Company which has over the years proven to be one of the leading construction companies, reported to have all their records clean and have also deliverd all possible road contracts which were contracted with Abia State Government till date.
Our correspondence who took time to go round the company reported that none of the company's properties was saled, no staff was arrested and neither the CEO who is the son of a former Deputy Governor in the State Engr. Enyinnaya Nwafor.
As at the time of fileing this report the premises of Osisioma branch of Tunnel End and Rock Waters Integrated Services Aba, is at a peaceful state and business activities was ongoing without any undue interference.
Members of the public are advised to disregard every rumor by mischief makers to dent the image of the company as none will ever succeed as the company has nothing to hide.