Pro-Chancellor and Chairman Governing Council University of Calabar Distinguished Senator Nkechi Nwaogu PhD CON has felicitated with Christians all over the world as Christians mark this year's Easter celebration.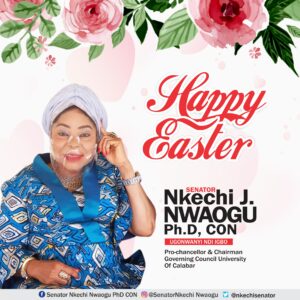 Senator Nwaogu who disclosed this to the media said that Easter is a time for a sober reflection and also a period of reconciliation with our God and the people around us. She said that the risen Christ has paid the ultimate price for the atonement of our sins.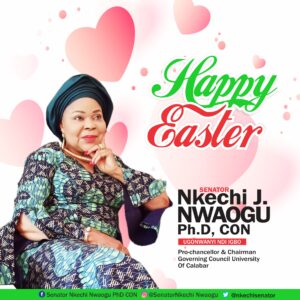 She also urged the Christians to stand and defend the country by praying fervently for the peace, stability of the country and God's Divine guidance for our leaders in steering the ship of government of our country
Ihie Abia further prayed for God's continued guidance and protection for the country and his Divine intervention in the fight against insecurity and insurgency.