Good deeds are very powerful. That is why almost every religion and culture values and rewards the performance of good deeds.
This comes after CSP Rabiu Garba, DPO, Fegge Police station Onitsha. Mr. Rabiu, a good cop bagged the SECURITY AND EMERGENCY MANAGEMENT AWARD. (SAEMA 2020) for his professionalism and wisdom in discharging his duty in serving the nation by handling dispute, conflict and protecting lives and properties.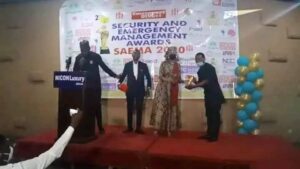 Recall that during the first wave of the #Endsars protest some youths in Onitsha mobilized to burn down some Police stations based on allegations of extortions and high handiness. However when they trooped to Fegge Police station all the policemen fled except for Rabiu Garba who happens to be the DPO. And on sighting the DPO, they decided to abort their mission of burning down the police station owing to the fact that he has been a good cops since he became the DPO of the police station.