Notable Chieftains in the opposition Peoples Democratic Party (PDP) and some other political parties in Imo State on Monday defected en masse with their supporters to the ruling All Progressives Congress (APC) in a move that left their former parties not only stranded but badly wounded.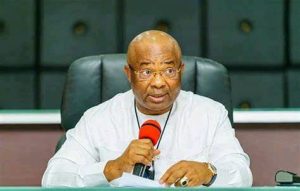 It was a day of glory for the APC leadership at the State and National levels as the defectors filed out in what looked like an Alter Call, ascending the podium at the Rear Admiral Ndubuisi Kanu Square, Owerri to be formally received into the Party and handed over the broom, the symbol of the APC.
Top on the list of the defectors were Rt. Hon Bede Eke (Aboh Mbaise/Ngor Okpala Federal Constituency), Rt. Hon Henry Nwawuba (Mbaitoli/ Ikeduru Federal Constituency) and Rt. Hon Ikenna Elezianya (Owerri Federal Constituency), all PDP chieftains and federal lawmakers from the Owerri zone.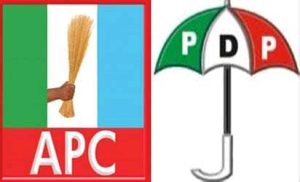 The others include, Hon. Bruno Ukoha from Ezinihitte/Ahiazu Federal Constituency, PDP Apex Leader in Ngor Okpala, Hon. Emma Nwogu and Pastor Frank Onwumere from Okigwe.
In unison, the defectors, with their supporters running into thousands who took every available space at the venue of the event, endorsed the second term bid of Governor Uzodimma and pledged to work for his reelection come November 11, 2023.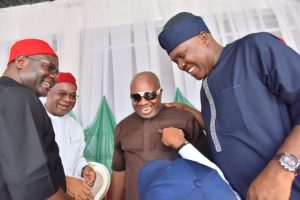 Governor Hope Uzodimma of Imo State, his deputy, Prof Placid Njoku, Dr. MacDonald Ebere, Imo State APC Chairman, Dr. Ijeomah Arodiogbu, APC National Vice Chairman, South East, among other key party members were on ground to welcome the new entrants into the APC fold.
An elated Governor Uzodimma said: "My heart is full of joy. First, I will start by giving God glory. He set aside today for a reunion of men of good conscience from Imo State, those who understand the need for a united Imo State and a new Imo State. A State where everybody must be his brother's keeper, a State where people must support a winning team to continue to play the match. I want to thank the Almighty God for that.
"I am particularly very happy that prominent leaders of our State representing the political class have decided to give peace a chance, have bought into the idea that Imo State must be united and Imo must develop and there must be an economy in the State. I want to thank them, particularly those of them with national name recognition.
"Those who have been at the National Assembly speaking for and on behalf of our people. I am very happy that we have bought into the acronym that charity begins at home. My promise is that there are no new members of APC and there are no old members of APC. I want to assure them that they will not regret their decision because what is there to fight?
"For some of us, we are praying – kneeling on our knees in our various homes praying to Almighty God. Sometimes we don't even know when God has answered our prayer. I am indeed very happy that these great brothers of ours, and sisters, have seen the new dynamics of national politics. They have seen the new dynamics of the global economy. It is only when we are united and on the same page that we will be able to attract good development into our State. If we are not united, we will be divided, but if we are united we will not be divided and United We Stand.
"I want to thank them. One assurance I will give you; power belongs to God, the power we are holding; God gave to us to hold and only God can remove it. Human beings cannot. So, come together, I cannot do it alone, nobody can do it alone.
"Today the only economy that has global acceptance is the digital economy. Communication and technology have taken over the world. We must buy into the New World Order. The new world order is about development and prosperity. If the stomach is empty the body is angry, if the stomach is filled up, the body is relaxed. We must create prosperity together. We must create prosperity for our people, our children must go to good schools, there must be food for our people to eat, there must be good hospitals, and there must be good schools for people to go to.
"We must love ourselves, we must reduce anger in the land, and we must discourage those who want to get power at all costs and know that power belongs to God. We must continue to develop Imo State. The only State we can call our own is Imo State. If we are united and understand the need to move our people from where they are at the moment to the next level, that is only when God will be happy with us.
"It is not about being a governor, it is about coming to sit over the commonwealth, over the money of the people and using the money for the people. I challenge anybody here in Imo State or outside Imo State who will accuse Hope Uzodimma of having taken Imo State people's money. I challenge any accountant, any cashier that Hope Uzodimma has asked for money that has no official Ledger.
"So I am not here to exploit my people. I am here to develop my people. I thank my brothers, they have come to add value, they have not come to reduce value. I know every one of them on their credentials, they are people with impeccable credentials, they have something to offer and I can tell you that, I know how to use the value they are coming to add."
Governor Uzodimma assured the defectors that they will not regret their decision to join the APC.
Earlier, Prof. Njoku had described the gathering as a carnival, saying that "the people are happy because they have a performing, passionate, loving and listening Governor."
He also thanked the defectors for the decision they had taken, saying that "the decision is ordained by God." In congratulating them, Prof Njoku urged them to join hands to build Imo State.
Welcoming the defectors, the Chairman of APC Imo State, Dr. Macdonald Ebere, said the new members came to endorse the Governor for a second tenure and that the gathering was symbolic and memorable.
"By the performance of the Governor, he has surpassed the expectations of his admirers and surprised his detractors," Ebere said and assured the defectors of equal attention and opportunity in the activities of APC in Imo State. "There will be no segregation, marginalization or dichotomy."
In his brief remarks, the APC South East Zonal Chairman, Dr. Ijeomah Arodiogbu, thanked the defectors for "taking a wise and deliberate decision to join and help develop Imo State, their constituencies and communities as well as help build the APC in Imo State and Nigeria at large."
He specifically thanked Governor Uzodimma for his contributions in the growth and strengthening of APC in Imo State, South East and Nigeria through his giant strides and achievements.
The key defectors took turns to speak.
Hon. Bede Ekeh told the mammoth crowd that the PDP in Aboh Mbaise/Ngor Okpala has collapsed into APC, describing APC as "indeed a Progressive Party and the Governor is a Progressive Governor." He added that "the Governor has capacity. In fact triple capacity" and expressed his support and endorsement of the Governor for another term of four years.
Hon. Henry Nwawuba said: "Governor Uzodimma is a man of focus" and added that "Mba/Ike has decided to return him with very large number of votes in the November 11th election."
Hon. Ikenna Elezieanya said: "I am happy to be in the midst of the Progressives and Progressive Party." He expressed happiness with the level of infrastructural development that the Governor has given to Imo people and Owerri zone in particular, saying that he and his supporters are joining APC to add value and support the Governor to actualise his second term bid.
Pastor Frank Onwumere, a former Chairman of Okigwe Local Government, and former Head of Imo Security Network in the administration of Senator Rochas Okorocha sincerely thanked the Governor for the quality road he gave to the people of Okigwe and prayed for the Governor and his family.
He reminded the Governor that he and his team are always available and ready to work whenever he desires.
Top leaders of the APC from Owerri zone like Prince Lemmy Akakem, Prince Charles Amadi, Chief Henry Njoku, Chief Malcolm Nlemigbo, Chief Justus Ogu, among other political leaders from Owerri zone were on ground to witness the event.
Also, top government officials such as the Secretary to the Government, Chief Cosmos Iwu, the Chief of Staff, Barr. Nnamdi Anyaehie, Commissioners and other government appointees attended the occasion.