A Twitter user with the username '@LaseMoye', has described the last moments before the death of Vwaere Diaso, a medical doctor at Lagos Island General Hospital, Odan.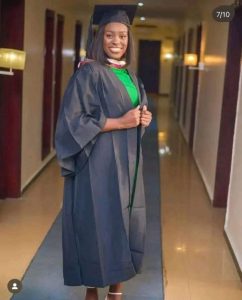 Diaso had died, on Tuesday, after an elevator she was in at the general hospital, fell from the 10th floor.
The deceased was said to have been on her way to the ground floor to pick up a food delivery from a dispatch rider when the incident happened.
Moye, who also works at the hospital, said she was standing in front of the elevator and pressed the open button, but didn't enter because she was on a video call.
She said it wasn't long after that she heard a big crash to the floor, which made the dispatch rider, who brought food for Diaso, run out of the building.
The doctor said someone then raised the alarm that Vwaere was in the elevator, adding that they immediately began seeking help to bring her out of the elevator.
"They tried to use rods to open it, to be sure it wasn't a joke. They finally opened it and the sight was gruesome. Muffled sounds of excruciating pain and agony became apparent," she wrote.
"Her forehead had a horizontal cut, her mouth had another one and she had raccoon eyes. She was lying in between the base of the elevator and the ground floor, with the engine hanging over her head, which meant any miscalculation in movement, she'll be crushed to instant death.
"She was literally sandwiched in between the hanging engine and below the ground floor with blood on broken glasses and fractured limbs. It's not a sight to describe."
*Help came after 40 minutes*
The deceased's colleague said engineers were called to dismantle the elevator, noting that it took almost 40 minutes for them to arrive.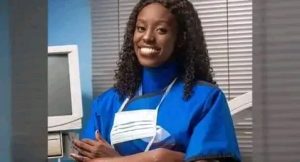 "I remember telling her to relax that help was coming," she said, 'Don't tell me to relax, tell them to get me out of here'. We eventually got her out and she kept saying she thinks she'll die," she wrote.
"Emergency care was almost zero and inside a hospital for that matter. There was no blood in the hospital."
Sanwo-Olu vows thorough investigation, condoles with victim's family
Meanwhile, Governor Babajide Sanwo-Olu, has vowed to thoroughly investigate the tragic death of a medical doctor, Vwaere Diaso, who lost her life due to a mechanical failure within the elevator at the Doctors' quarters of the General Hospital, Odan, Lagos Island.
Sanwo-Olu, who described the death of Diaso as devastating, empathised with the deceased family.
"In light of this tragedy, I have taken immediate action to initiate a thorough investigation into the cause of the mechanical failure.
"It is my sincere commitment that this investigation will be conducted with utmost transparency"and fairness, leaving no room for any biases or favouritism.
"I was deeply saddened to hear about the tragic loss of Dr Vwaere Diaso, a dedicated"medical professional whose life was taken due to a mechanical failure within the elevator at"the Doctor's quarters of the General Hospital, Odan, Lagos Island.
"It is distressing to think that such a promising young doctor had her life cut short in such a devastating manner.
"As a parent myself, I cannot help but feel the pain and sorrow that Dr. Diaso's loved ones must be experiencing during this difficult time. My heart goes out to her parents, family members, friends, and colleagues who are grieving this profound loss." the governor said.
He also sympathised with the Medical Guild, the Nigeria Medical Association, the Medical Guild, and all doctors in Lagos State.
"I extend my deepest sympathies. Losing a fellow a healthcare professional is a tremendous loss for the entire medical community." he said.