The Deputy Transition Chairman, Isiala Ngwa South, Bar. Prince Paul Enyioma Okpanku has urged the good and amiable people of Isiala Ngwa South to stay safe, maintain a healthy and clean environment.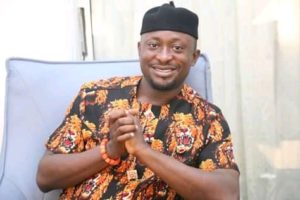 He urged them to follow strictly the government directives to stay indoors, washing of our hands regularly with soap and disinfectant, wearing of face masks and application of hand sanitizers always. Also reporting any case to the relevant health agencies and authority.
He also put into cognizance the pains and difficulties this will pose to people but urged the good people of Isiala Ngwa South to put into serious consideration the non-duplicacy of life into much priority.
As part of his own contribution towards the fight for Coronavirus, the Deputy Transition Chairman is going to use fifty percent of March salary to give to the widows in Mbutu Ngwa Community tomorrow 4th of April 2020 at the palace of HRM Eze P.N. Okpanku, Amankwo Mbutu Ngwa so as to cushion the effects of the COVID 19 on the people because charity they says begins at home. He urged others who are occupying leadership positions, successful businessmen and others to help their various communities in this time of need because hunger is a more deadly than disease.
In the issue of the hike in price of the food items and other commodities, the Deputy Transition Chairman described such as an abominable and condemnable act and man's inhumanity to man. He thanked the amiable Governor Okezie Ikpeazu PhD on his timely intervention.
Stay safe, stay Indoors, we will definitely defeat Coronavirus"
Signed
Onyendi Victor Kelechi
Chief of staff
Office of the Deputy Transition Chairman
Isiala Ngwa South