The Programme Manager Abia State Agriculture Development Programme (ADP) Hon. Israel Amanze (Okeorji Abia) on Saturday 11th April 2020 in his country home Amankwo Mbutu Ngwa distributed relief materials to vulnerable and less privileged members of his community as way to cushion the adverse effects of COVID 19 lockdown on the people.
Hon. Amanze while addressing the people admonished them to comply strictly with the directives of the Government by staying home safe, washing their hands regularly with soap and clean running water, maintaining Social distancing and reporting any suspicious case to the appropriate authority.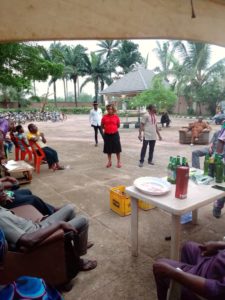 Hon Amanze commended the efforts of Abia state government to keep the state free of the disease as well as set control Centres in the unlikely event of an outbreak. He gave thanks to God who has been protecting his people and prayed that God will see us through.
Contributing, A one time House of Assembly Member Representing Isiala Ngwa South in the State Constituency,.Hon. Remigius Nji thanked Hon. Amanze for magnanimity especially now that the the people are locked out their businesses. He advised the people to make sure that the follow without any compromise. He acknowledged the fact that this may mean untold hardship on them but said that the hardship is better than to contract the ailment.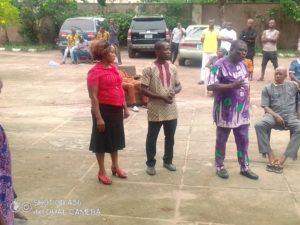 In their vote of thanks, the coordinator of Abia Grassroots Group Mr Chuks Adiele and the woman leader of Grassroot vunerable group Mrs Cordelia Nkole thanked Hon. Amanze for his magnanimity and prayed God to bless him and his family.