In Amankwo Village in Mbutu Ngwa Community is a man of impeccable character and quintessential track records called Hon. Chief Israel Amanze who goes with the sobriquet Izybest.
Amanze born into the family of Elder and Mrs Nicholas Amanze achieved success through hardwork and dexterity of purpose.
In academics, Chief Amanze graduated summa cumme laude from the prestigious University of Nigeria Nsukka where he bagged one of the best results in Agriculture, a field he has distinguished himself.
Amanze who is driven to with a burning and unwaivered passion for selfless service and Community development matched his belief with action by initiating Mbutu Electricity Project which was powered by ABCPRP, a community development Agency in Abia State now CSDP. It is imperative to note that he single-handedly paid the counterpart fund then.
In the same vein he also attracted the Osokwa Nvosi project executed under a highly respected traditional ruler HRM Eze Solomon Nwakwue.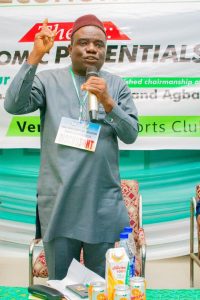 The Osokwa UNDP funded project gave Science Equipments to Nneise Sec SCH, graded roads, provided motorised borehole, various agricultural inputs and oil palm processing facility.
Through the Mbutu Ngwa Town Chief Amanze in partnership with Austino attracted the Supply of Hospital Equipments from Health Management Board Abia State to Mbutu Ngwa Health Centre.
Through the Abia Grassroots Movement Chief A mane attracted a realised a multi Disciplinary Skill Acquisition Centre, fully equipped.
Chief Israel Amanze might not have done all things but in subsequent episods, we will bring up the various LEGACIES OF THIS UNSUNG LEADER of our time.
To be continued