Chidinma Ojukwu, the suspected killer of Usifo Ataga has revealed how she tied Usifo Ataga's hands before killing him. Chidinma made this revelation in a new interview with NTA. Read what she said during the interview below,
"We met ourselves at an outing. That was the first time we slept together. His friend was the one who introduced me to him. My friend was dating his friend at the time.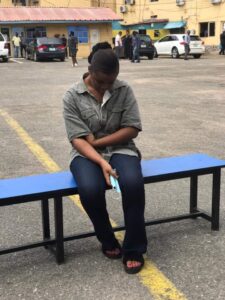 "I killed him because I wanted to steal his money. His driver's license was with me. I was scared that they were going to catch me. I knew the police would come looking for me.
"I wanted to steal from him but he struggled with me and that was when I stabbed him. I tied his hands when he was sleeping so that he would be able to give me what I want when he wakes up.
"We were fighting and that was when I stabbed him. I was high on drugs so I don't know how many times I stabbed him. He was already high on drugs too. He took more drugs than I did. He already sent me money to order for the drugs.
"We smoked and drank together. I recovered from the drugs in the afternoon but at that time, he already passed out. I asked for money but he didn't agree to give me. I knew he was married, we were not looking to get married."