Pocket App, formerly known as the Abeg app has revolutionalised from an app for sending and receiving money to a full-fledgAPPed social commerce and payments app.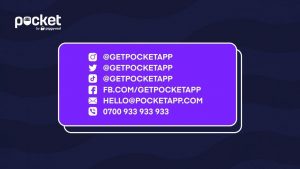 WHAT'S SO SPECIAL ABOUT THE APP? WHAT'S IN IT FOR YOU?
AS A BUSINESS OWNER, POCKETAPP ALLOWS YOU:
Earn extra money by selling your products or services and easily get paid.
Make four times as many sales (real customer payments) as other channels.
Create multiple shops from your personal PocketApp account.
Receive an unlimited number of payments with ZERO percent commissions.
Promote products and services to millions of cash-rich customers.
Using escrow, you can sell with confidence without fear of being scammed by customers.
AS A BUYER/USER, POCKETAPP ALLOWS YOU:
Access to a wide variety of authentic sellers.
Enjoy price transparency: There are no hide and seek games. What you see is what you get.
Pay recurring bills.
Use the clique feature to manage cash and expenses with others (You and boo, friends, members of cooperative, Teammates. etc.)
AS A PIGGYVEST CUSTOMER, POCKETAPP ALLOWS YOU:
Get the best prices for items you were already saving towards.
Access unlimited items from a wide range of sellers or providers.
Fast and secure payments to any seller without the fear of being scammed — using escrow.
Enjoy fast credit alerts of your PiggyVest withdrawals.
Easily create joint accounts with 2 – 100 participants. (E.g- couples).
Pay bills, transfer to any bank account and more.
Of course, we will not give you all the juicy gist here but we can confidently state that because of Pocket by Piggyvest App, the landscape of online commerce and payments will take an interesting new turn.
Visit the link below to get the PocketApp.
GOOGLE PLAYSTORE
https://bit.ly/3BmDUkD
APPLE APPSTORE
https://apple.co/3J9LMaV