His Eminence, Eze Dr Sir. B.O. Enweremadu. PhD. Ezeukwu of Ngwa Ukwu, The Traditional Head of Ngwa Nation, is a First Class/Foremost Traditional Ruler per excellence, exceptionally exposed and overtly unique in all shades of royalty. An epitome of bravery Ezeukwu stood tall as the chief custodian of tradition and cultural heritage of Ngwa Land. Full of wisdom and ideologies, Ezeukwu is believed to be the direct incarnate of Ukwu Onyenwe Ala the founder of Ngwa Nation. He has a remarkable standard of not always making public appearance, this made it a little difficult to be pulled out anyhow from his exotic palace by individuals and or government institution at will.
Ezeukwu consistently preached cohesion of the traditional institution and seamlessly advocated same to be enshrined in the constitution as the 4th tier of government.
His Eminence was a baker and fine business man before he accended the throne of his forefathers at the age of 33 and diligently discharged his duty for 44 long years. He has 77 Children and over 100 Grand Children and many Great Grand Children.
Ezeukwu played magnificent role in preserving and promoting the sociocultural advancement of the UkwaNgwa nation. He was among the eminent traditional rulers and leaders of thought that midwifed Nigerian democracy which an evident congratulatory document was handed to him by the late UN secretary Kofi Anan.
Creation of Abia was possible by Ezeukwu's outstanding roles and influence.
He was blessed with 14 wives as he desired and considering mathematical laws stating 7+7, he gave birth to 77 children at 77 years old with leading his people for 44 years on the revered UKWU THRONE he ascended at the age of 33 by putting together 33 + 44 on throne is still 77. He pronounced 2020 his year of double digits and making remarks on 77 as a significant digit by God his Makers grace.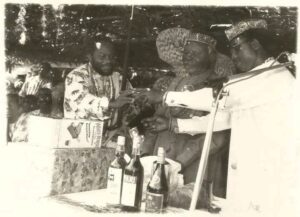 EzeUkwu attended St. Michael's School, Ahiaba Okpuala (1951-1959), Donald Commercial Institute, Ahiaba/Amapu Ngwa Ukwu (1960-1964), The Hind Homeopathic College (1970-1974), Brantidge Forest School Sussex, England (1975). He had Diploma in Homeopathic, India and had a Ph.D in Homeopathic Medicine, London, UK.
He holds Honorary Doctorate Awards in Human Relations – Bruxelles, Belgium, in Literature, India, in Arts & Public Administration, France and currently in Business administration Abia State University.

He's the 13th Traditional Head of Ngwa Land and was coronated on 23rd October 1976. He was the former Deputy Chairman, Imo and later Abia State Council of Traditional Rulers for 15 years under the Late Eze Dr. Akanu Ibiam. Ex-Chancellor of the London College of Applied Science. Former Chairman of Abia State Council of Traditional Rulers.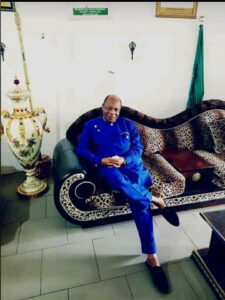 He's the Grand Patron of All Nigeria Homeopathic Medical Association. Member of the United Kingdom Homeopathic Medical Association. Royal Protector for the Royal Knights of Justice. Royal Patron of the International Chivalric Order of Knights. President, Ukwa/Ngwa Council of Traditional Rulers, Abia State.
He was a Former member, National University Commission (NUC) Represented Southern Nigeria in NUC back then. He was a participant during the First Presidential Retreat on Security Matters. Member Traditional Rulers and Eminent Persons, Peace and Unity in Nigeria.
The Grand Sovereign Dynasty Hospitaller, Order of St. John Knights of Malta. The Chief Executive and Managing Director, Benwems Company Nigeria Limited.
His Eminence represented the African Traditional Rulers during the African-American Cultural Festival at the City Gate of Toledo, Ohio USA sponsored by the former Imo State and Federal government in 1989.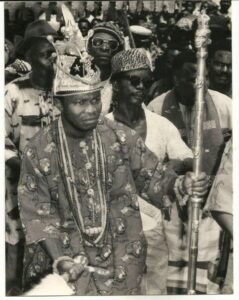 He was awarded the Glass Key to the City of Toledo, Ohio, USA.
He sponsored several constructions, reconstructions and renovations of many Primary and Secondary Schools in Ngwa-Ukwu Kingdom, has been giving educational scholarships to Nigerian sons & daughters since 1976 – date.

His Eminence is credited with making Traditional Institutions throughout Africa, elevated, revered and valued once again.
His Eminence lived a fulfilled life full great accomplishments.
Where ever he is, he'll be proudly smiling back at his legacies
May you live on onyenwem as I fondly called you.
Prince Brave Ike Enweremadu.