IPOB Zonal Welfare Officer Zone 2 Sunlight Estate Obigbo Rivers State Uchechi Enyioma has been reportedly killed by Nigerian Army Yesterday in her sleep at her home
Here is a release to confirm the death of Enyioma Uchechi
Combined team of Nigeria Army, Police and DSS ambushed Miss Uchechi in her residence at Okpulo in Iriebe, Obio-akpo LGA Obigbo, Rivers State and five others on the 13th May, 2021 by 12am mid night and murdered them while they were sleeping.
She is a single mother of two little daughters without anyone to care for them. Innocent BIAFRANS are now being targeted in Obigbo and shot at sight. This is unacceptable and can not be allowed to continue. Being a BIAFRAN is not a crime and we can not be murdered in cold blood in our homes while sleeping and our murderers which are Nigeria joint Military, Police and DSS will be walking free in our land. BIAFRANS, we must all rise now and fight together to live Forever or wait and die one by one. TIME IS NOW. They brought war to us and we must fight back. Arise O BIAFRANS, our People are being killed on daily basis and we cannot be quite. We must fight back and live.
Fight on Sister Uchechi from Beyond…never rest till your killers are all destroyed in our Lands and Biafra Restored. You will forever be in our hearts 😭😭😭.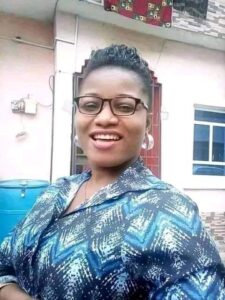 Since Wednesday that I passed through the crime scene and sighted the dead bodies, I am still beyond words.
Uche Enyioma, I am yet to phantom what went behind and why you left.
I punctuate for now.