The ruling People's Democratic party in Abia state has won a suit filed against them that was challenging the three man delegates list.
Recall that the PDP Governorship Candidate, Chief Okey Ahiwe was joined as a substitute by the appellants for Late Prof. Uche Eleazer Ikonne last week Friday
The Supreme Court dismissed the appeal and awarded a sum of 2 million Naira to be paid by the prosecuting counsel.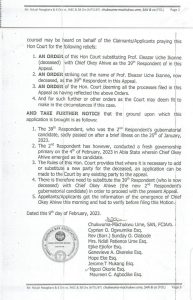 Congratulations to Chief Okey Ahiwe and all Abia state PDP Candidates.