With a nostalgic reflection to the unfortunate incidents of 1967-1970, I honor the fallen heroes who fought that we may live. With every sense of bewilderment and sobriety, I remember my uncles and brothers whose lives were cut short as a result of such great man's inhumanity against his fellow man.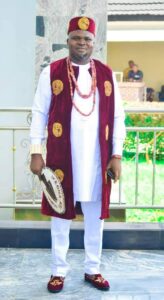 Apart from the over three million people that lost their lives, we would always remember the £20 general compensation given to us despite all our millions and billions that were in our bank accounts prior to the civil war. We would always remember our mansions and businesses all over Nigeria that were forcefully taken from us with the nomenclature of abandoned properties.
With tears in our eyes, we would always remember our pregnant women whose ribs you could count as a result of malnourishment. We would always remember our children with bulged out stomachs, tiny chewing-stick-like legs and they would walk drowsily, wagging their tails like a local dog (ekuke).
But there's a sense with which the God of an Igbo man never sleeps. Today, we have managed to take over all the Nigerian commercial sectors and other sectors that we have appeared on the pages of several current affairs documentations as the richest tribe in Nigeria in income per capita. A drive around Lekki , Abuja and other big towns in Nigeria will tell you how much the Igbo has contributed to the nation building despite all they have been through. One can beat his chest and say that Ndi Igbo are the true Nigerians.
Unfortunately, these contributions seem not to be recognized by the present administration at the centre having marginalized Ndi Igbo in appointments, projects, et al thereby giving credence to the escalating agitation in the South East.
In the recent time, as the agitations and insecurity are skyrocketing in the East, I have always pondered on who will speak for the Igbo as we do not have a representative in the top security echelon of Nigeria.
Truly there is a road that has not been taken by the Nigerian government. That road is the only antidote to the rising insecurity. That road is the only remedy to the escalating agitation in the South East. And that road is to jaw jaw and not to war war. That road is a replica of Gen. Gowon's 'three Rs' (Reconstruction, Reconciliation and Reintegration) which in the real sense has not been implemented.
Just like Germany recently realised the genocide they orchestrated in Namibia during the colonial era, Nigeria and her British collaborators must realise the 1967-1970 Biafran genocide and apologize openly to the children of the mercilessly massacred Biafrans.
It was Philip Effiong who warned as he gave his surrendering speech on Ojukwu's behalf, "If you don't treat the children of the surrendering Biafrans well, they will rise again." They have risen again as IPOB and I call on the Federal Government for the sake of peace, security and national unity to dialogue with them. As a good student of history, it is not lost on me that Boko haram of today is a metamorphosis of not discussing with Late Suleiman and his death has left many northern cities in rumbles. I recommend that amnesty should be granted to IPOB members and they should be trained in any field of their choice just like their Niger Delta counterpart.
Furthermore, there is another road that has not been taken by Nigeria. That road is to organise an inter-ethnic dialogue where our unity and marriage will be negotiated and all our grievances will be addressed. Any nation with such a volatile unity like ours must as a priority be ready for a perennial inter-ethnic jaw jaw. There should be more devolution of power to the states and local governments to give room for true fiscal federalism.
Simultaneously, I call on the National Assembly to make laws establishing with a matter of urgency the state police where the likes of ESN, Omotekun and others will be integrated and reoriented.
But to my IPOB brothers and other agitating groups, like the Igbo adage says, "One who is seriously wanted by his enemy, does not stand on the road." The Igbo as a people are a group of endangered species in the territorial shelf of Nigeria. Therefore, we must be very careful not to play into the hands of our enemies. There are so many peaceful ways to agitate and make our grievances known. Just like the Catalans of Spain, let's give room for negotiation. In my life, I have come to know and realise that no problem is without remedy. War is a wind that blows no one any good. Come to think of it: what will a Fulani pastoralist lose when you start a war? His mat and pocket radio? It sounds hilarious, right?
War cannot and will not be a tool for peace. If you doubt me, watch the movie Hotel Rwanda.
FINALLY, EVEN AS WE REMEMBER, MAY WE NEVER EXPERIENCE IT AGAIN.
For publication of your news content, articles, videos or any other news worthy materials, please send to newsmirror14@gmail.com. For more enquiry, please call +234- 808-050-9464 or whatsapp. To place advert, please call +234- 808-050-9464.