A group, BOLA AHMED TINUBU SOLIDARITY VANGUARD (BATS-V), Abia State Chapter has congratulated Hon. Nkiru Onyejiocha on her nomination as a Minister Designate by President Bola Ahmed Tinubu GCFR.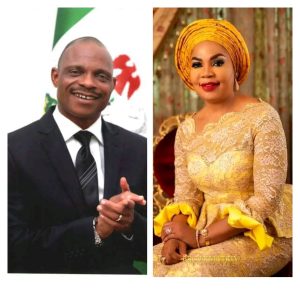 In a statement made available in Umuahia, Abia State Office of BATS-V, the group posited that the nomination of Hon. Nkiru Onyejiocha, a National Board of trustee Member, BOLA AHMED TINUBU SOLIDARITY VANGUARD ( BATS – V), as a Minister Designate is an indication of her hard work, loyalty to the party and a manifestation of her role and support towards the victory of President Bola Ahmed Tinubu during the 2023 general elections.
The group under the Leadership of the former Speaker of Abia State House of Assembly and Deputy Governorship Candidate of the APC during the 2019 general elections, Rt. Hon. Martins Azubuike thanked President Bola Ahmed Tinubu for being a rewarder of hard work and expresses confidence that the quintessential law maker, will perform excellently in any ministry that may be assigned to her and her emergence will deepen the foothold of APC in Abia state
Abia BATS-V also commends the Global Chairman, Dr. Dare Owotomobi for his leadership, support and encouragement to make the group one of the formidable groups for Asiwaju in Abia State and the nation.
The group passed "Vote Of Confidence" on the leadership qualities of Rt. Hon. Martins Azubuike, the Coordinator of BATS VANGUARD in Abia state and assured him of absolute loyalty and support by all genuine members of BATS VANGUARD in the state
Recall that, in 2002, Hon. Nkiru Onyejiocha was appointed the Commissioner for Manpower Development in Abia State where she established skill acquisition centers across Abia State.
She also served as a local government chairman in Abia State, where she presided over the affairs of the council.
Honourable Nkeiruka was first elected member of the Federal House of Representatives in 2007, and later re-elected in 2015, both under the People's Democratic Party (PDP). At the National Assembly, she served as the Chairman of Women in Parliament and Chairman, House Committee on Aviation.
She would later join the All Progressives Congress ( APC) where she brushed aside some political heavyweights to emerge again as the House Member Representing the good people of Isuikwuato/Umunneochi Federal Constituency
Her legislative interests border on sponsoring bills that will enhance the standard of living for children, women, youths and the less privilege, education and infrastructure including health and aviation sector.
Her target achievements includes delivery of good and lasting democratic dividends to her constituency and Nigeria at large through responsive legislation.
In President Tinubu cabinet, Hon. Onyejiocha is coming with wealth of Executive and Legislative experience as well as her love for empowering the people.