The MD/CEO, Assurance Trust Finance Company, Mr. Tony Curtis may not be the most wealthy Abian. But he can favourably compete as one of the men that love Abia and want only the best for his beloved state.
The Isuikwuato LGA born banker and financial expert over the past few years has been breathing life into Small and Medium Scale Enterprises ( SMEs) in the South East, especially Abia state, the commercial nerve centre of the South East and the capital hub of small and medium scale enterprises, in seamless ways that can stimulate the government of Abia state, politicians, business men and individuals to seek partnership with his parttern of empowerment, which is geared towards creating " WEALTH FOR ALL", irrespective of business inclination, so long as it meets the basic conditions – which is to have a business that is traceable, verifiable that makes daily or weekly income.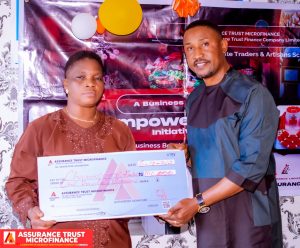 In an interview with www.newsmorrorng.com, Mr. Tony Curtis has this to say "Good and purposeful leadership should be in the interest of the people, not in the selfishness and aspirations of the leader"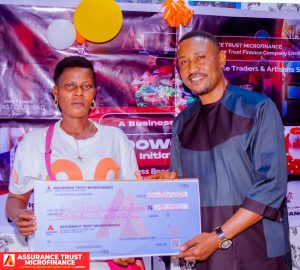 He maintained that, Assurance Trust Microfinance, as part of her leadership style is to empower *Traders and Artisans in the market place with Visible, Traceable and Regenerative businesses with our Business Support Empowerment Initiative.*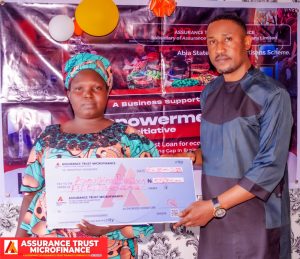 The Chief Executive Officer of ASSURANCE TRUST COMPANY insist that the empowerment programmes of the company is not just about profit making but his own contribution towards the distribution of wealth to " Ndi Igbo", Abia state and Nigeria small scale business community.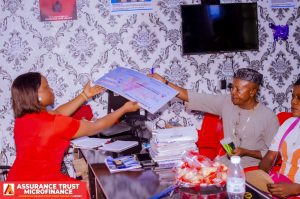 Mr. Curtis revealed his undiluted passion for Abia, his home state, stressing that the empowerment scheme is designed to help develop the Abia economic hub", aimed as to create many financially independent people in the state.
To match his words with action, www.newsmirrorng.com can authoritativly affirm that, Assurance Trust Microfinance has since began the disbursement of *Business Support Empowerment Initiative* for Traders and Artisans resident in Abia State as many traders and Artisans within the two cities of Aba and Umuahia witnessed the disbursement of the loan to help them trade for the December season, and many of them had something to tell the Abia state Governor, Dr. Alex Otti.
Our investigation reveals that the loan by Assurance Trust company, does not in it's entirety look like a normal loan with heavy repayment burden but more of an economic revival to teeming business community, aimed to bridge the funding gap with a minimal interest in rate of 3.75%pa for 40weeks, the best any financial institution can offer in Nigeria of today.
The good news in Abia state is that, Assurance Trust Finance Company has decided to give wonderful opportunity to anyone with regenerative business outlet within the 17 Local Government Area of Abia State with a Business Support Empowerment for 40 weeks repayment plan to trade and make more profit.
Already, the pilot project of this initiative has kicked – off with resounding success and the method is very simple. The anchor man for the pilot, Apostle Hilary, Director of Mobilization, met with the people of Ohunhun at Ekeoba Hall, to underscore the fact that, it's not a joke for anyone who has relatives doing good business or handiwork that is fetching the person a daily means of livelihood.
Reacting, two of the loan beneficiaries who spoke with our reporters, Mrs. Glory Nwoko and Mr. Chinasa Njoku expressed happiness over the loan and the process adopted by the owners of Assurance Trust, and urged the Dr. Alex Otti led administration in Abia state to partner with the financial expert, Mr Tony Curtis to draw a roadmap to empower Abia SMEs.
Recall that some of the offices of Assurance Trust are as follows:-
* 36 Igbo Street, off Uzuakoli road, near Zenith bank
* 102 Faulks Road opposite Car Dealer by Ikonne Palace Aba office
* Peacock Plaza, 78 New Lagos Road By Board of Internal Revenue, New Benin Edo State.
* Ihenchere Plaza, off Mbakwe Road, Malaysia Market, Onu-Imo. Imo State
* Ezenkwu Plaza, Ngbuka Awada Obosi, Onitsha,
Anambra State
For further enquiry, call: 09131987909, 08120875129 08021042196
Video