APC Lobby Group that was led by an Oil and gas expert and APC Abia South Senatorial Aspirant in the 2019 Elections Engr. CHINEDU ONYEIZU arrived the residence of Distinguished Senator Nkechi Nwaogu around 1.13 PM.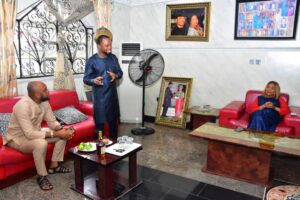 Speaking, Dr Obinna Ebirim thanked Distinguished Senator Nkechi Nwaogu for giving them the opportunity despite her tight schedule. He said that the team runs across the 36 states of the country and the Federal Capital territory and that the group is soliciting for the the entrenchment of 10% of Local Government and ward chairmen to be youths and also reserved the Vice Chairmanship position for the women. The further solicited giving the position of Organizing secretary of the party in the Local Government and State to Youths.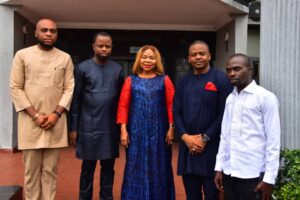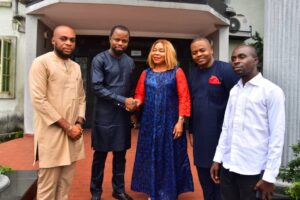 In his speech, Engr. ONYEIZU acknowledged the youth Friendly nature of Senator Nkechi Nwaogu and also thanked her for accepting their invitation. He solicited for the Support of Senator Nkechi Nwaogu and also to be their ambassador in the quest of giving the youths the desired position in the politics.
In her response, Senator Nwaogu praised the propagators of the idea of APC Lobby Group which she said is a progressive and timely while reaffirming that the system should give the youths the enabling environment to be active in the scheme of things politically. Senator Nkechi Nwaogu stated that in the just concluded ward Congress that over 50% of youths were elected as wards executives in Osisioma Ngwa Local Government. Senator Nwaogu said that Politics is not dirty but the actors. She reaffirmed her commitment to be the ambassador of the group and also help in conveying their pleadings to the relevant authorities.
The Courtesy Visitation by the APC Youth Lobby Group is currently going on throughout the country and Yesterday's visitation to Senator Nkechi Nwaogu is first by the group in South East Nigeria.
Other members that attended the visitation
Chika Raymond Aniemena,
ENGR Titus Nnamani and Dr. Obinna Ebirim