Abia APC has congratulated Senator Nkechi Justina Nwaogu as she clocks 64. According to a Press Release made available to newsmirrorng signed by Abia State Publicity Secretary APC Comrade Benedict Godson. It reads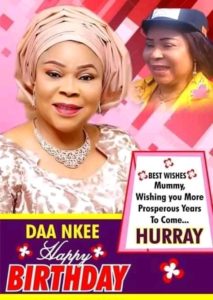 In a world where leadership is wrongfully seen as all men affairs, in a continent where tyranny of patriarchy rules like an emperor and made the benefits women leadership elude our society, Senator Nkechi Nwaogu, CON stood and proved that women are indeed awesome leaders.

Today is her birthday, and that name, Nkechi Nwaogu does not need introduction because she has made her marks and is still doing more. At 64, her passion to see her people live better lives is still as fresh as ever.

Senator Nkechi Nwaogu is one of Africa's greatest women alive today and it's a blessing to us that she's a Nigerian.

It's also a more bigger blessing to we Abians that she's one of our mothers. And of course, she's a source of encouragement to us all in APC that we have her with us.

Her wealth of experience is one thing you cannot just envy, but admire because no amount of envy will make you get close to such a height.

Her delightful representation in the House of Reps some years back still rings bell like it was yesterday.

Also, her wonderful service for the good people of Abia Central Senatorial Zone in the Senate between 2007 and 2014, still remains one the people of that great zone still wish they'll bring back considering how things are now.

In Igboland we celebrate our mothers very well, especially the special and rare ones. And Senator Nkechi Nwaogu is extremely special and rare.

With all our hearts, we pray and ask, that God will continue to bless her and give her many more years of healthy life so that she'll continue to improve the lives of people around her.

As one of our leaders and one of the strongest pillars of the APC in the South East and not just Abia, we say Happy Birthday to her and many more years of honour and achievements.