We the members of Allied Tricycle Riders Integrated Welfare Association (ATRIWA) send a save our soul petition to Okezie Victor Ikpeazu PhD against leaders of the proscribed SATOA led by one O C Ukaumuna, Nwanganga and others who came to our office at All Ngwa Cultural Organization premises with thugs armed with guns, cutlasses and broken bottles and unleashed mayhem to members of ATRIWA while carrying out their lawful duties. The thugs numbering up to 50 in great numbers of tricycles broke into our office premises and inflicted injuries on members of ATRIWA, took away money for the days business and forced away their former members who have voluntarily came to register in ATRIWA in obedience to the government order shouting "usu enweghi onu" translated that the Governor has no force to enforce it's proscription order on SATOA. When our members who are law abiding ran to the nearby Police station for rescue and arrest of the hoodlums led by O. C. Ukaumuna and Nwanganga among others, we were startled when the DPO told us that the State Police Commissioner ordered them to steer clear of the proscription policy of government.
It is clear that when this present police Commissioner came to Abia, she swore never to work with the governor due to the letter purported to have been written to the Inspector General of Police asking him to return Mr Okon who was then on transfer Further it is common knowledge that the chairman of the defunct SATOA has been boasting that he is in an intimate relationship with the commissioner therefore will not obey the proscription order of the government.
We are therefore not safe as we nolonger have confidence in the police and the Commissioner of Police Abia State. Our lives are no longer safe as our safety is no longer guaranteed as the state security custodian.
It will be recalled that the State government in it's quest to curb the excesses posed by SATOA prosbscribed the union in January 2021 and ordered all it's members to join either ATRIWA or TOAN while asking the police to ensure the enforcement of it's order but since then the present CP has done nothing rather she have assured her friend the SATOA Chairman that "usu enweghi onu".
It is a common knowledge that since the CP came to Abia State, security of the state which had earned our governor international accolade has been charttered. Hoodlums now take over the street without hinder and people including police are being slaughtered without the Commissioner of Police doing anything, the only duty the police does on the street is to harass citizens of Abia State, arrest motorist and tricycle operators over cycle and motor particulars by the CP special squad.
The CP has shown high sense of bias and great disloyalty to our governor thereby allowing her personal relationship and interest to override the general interest of the citizens of Abia State which she has been sent to protec as such cannot be able to discharge her duties to the satisfaction of the people.
We have therefore lost confidence in the commissioner of Police and beg the governor to please ask the Inspector General Of Police to remove the CP as we will nologer fold our hands and watch her friend Eugene Eze Job harass our members boasting of his protection by the Commissioner of Police Abia State. We also urge the governor to arrest Eugene Eze Job, O C Ukaumuna, Nwanganga for using an iligal union to perpetrate crime, cause fear and tension in the already charged society.
Above are pictures of member of ATRIWA who now lying critically ill at the hospital over injuries inflicted upon him by thugs of SATOA led by OC Ukaumuna and Nwanganga and others. We will want an urgent response from you, our able governor as we have implicit confidence in your ability and force to implement what you said.
Per pro ATRWA.
St. Moses Ogbonna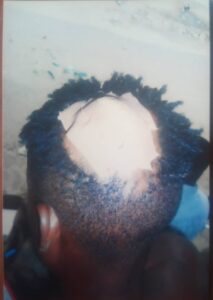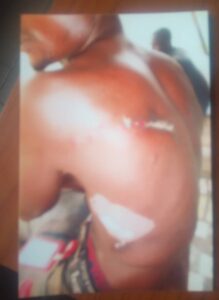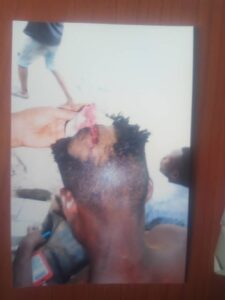 For publication of your news content, articles, videos or any other news worthy materials, please send to newsmirror14@gmail.com. For more enquiry, please call +234- 808-050-9464 or whatsapp. To place advert, please call +234- 808-050-9464.