It was a moment of joy on Thursday 8th, July, 2021, at the palace of His Royal Majesty, Eze J.I Ahunanya, Eze Ala 1 of Ohabiam Ancient Kingdom, Ohazu Egbelu Autonomy Community, Aba South LGA Abia State, as one of the Abia philanthropists, Bishop Dr Emeka Michael Nwankpa (Nmiri Nezoroha Ndi Ngwa ) received Royal Blessing from from Ukwa La Ngwa Traditional Rulers.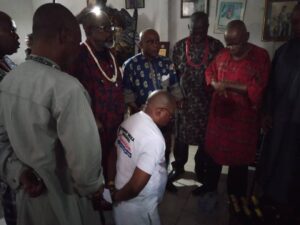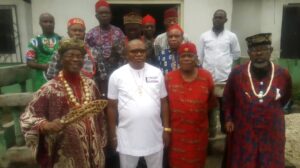 Bishop Nwankpa who is popularly known for his philanthropic works through his foundation, BISHOP EMEKA NWANKPA FOUNDATION , was invited by the Royal Fathers (Ndi Eze ) to recieve their blessings and support in recognition of his so many good works at the grassroots across the towns and villages in Ngwaland and Abia in general.
The Royal Fathers who could not hide their joy, took time to narrate how they are pleased by the good works of the man of God and praise him for always thinking home always.
HRH Eze Amadi C. Azuogu (Eziamara 11 of Ntigha Mbano Owo ) who described Bishop Dr Emeka Nwankpa as a rare gift to Ndi Ngwa, Abia State and humanity, pointed at his first contact with Bishop Nwankpa at Onitsha, Anambra State many years ago and how that encounter changed his life. He then asked his fellow Ndi Eze to continue to support Bishop Nwankpa's ambition to FIX ABIA and put smiles on the face of Abians.
HRH Eze Chima Njoku( Ogor 11 of Umuogor Osoke Amaise, Aba North), Eze Ngozi Obia( Eze Udo 11 of Alaukwu Ohanze Aut, Obingwa) , the host king Eze J.I Ahunanya (Eze Ala 1, of Ohazu Egbelu Aut, Aba South and HRH Eze Chima Gad
(Eze Oha 11 of Asaeme-Ohazu Autonomous Community, Aba South asked Bishop Nwankpa to remember always remember them as his type is rare.
In his response, Bishop Dr Emeka Nwankpa thanked the Royal Fathers for the courage to host him and described himself as a servant of God and the people.
In his word
"All i do i do to put smiles on the face of others and in return, thank God for using me to bless others" i like seeing people smile"
"Abia State needs a servant Leader to change the face of things in Abia. I will continue to use the blessings of God upon my live to touch lives and service humanity"
I WILL MAKE MYSELF AVAILABLE TO SERVE NDI ABIA IN DUE TIME. YES WE CAN FIX ABIA!
Although, all my life, i have been as a servant and have served humanity in various capacities. However, IF OPPORTUNITY IS GIVEN IN DUE TIME BY MY PARTY, APC, I WILL FIX ABIA"
The highlight of the event was Royal blessings and prayers by the Royal Fathers, followed by a group photograph.
The event which was witnessed by some Aides of Bishop Nwankpa and a few stakeholders of the APC from Ohabiam had in attendance Representatives of Ndi Eze from all the LGAs that made up Ukwa La Ngwa Area, viz :-
1. HRH Eze J.I Ahunanya
2. HRH Eze Chima Njoku
3. HRH Eze Chima Gad
4. HRH Eze Amadi C Azuogu
5. HRH Eze Ugochukwu Ihediwa
6. HRH Eze Felix Emejuru
7. HRH Eze Ngozi Obia
8. HRH Eze D.A Ogbulu
9. HRH Eze Ifeanyi Nworu
10. HRM Eze Obinna Nwagbara
11. HRH Eze Festus Otuka.
To God be the glory.