Press Release…
Allegation of Sexual Harassment baseless and Ludicrous – Aba South Council Boss
The attention of the Chairman, Aba South Local Government Area, Hon. Clinton Ebere has been drawn to a laughable and inordinate publication in social media dated July 2nd 2021 against the flawless and workaholic Chairman Aba South LGA.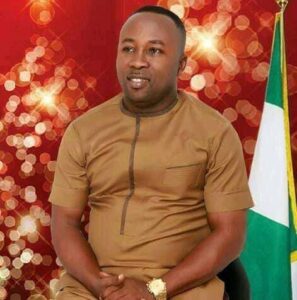 Ordinarily, we won't have paid attention to this misleading publication but to set the records straight we have decided to make the general public decipher the facts from fallacies.
It is very ludicrous that an elected Deputy Chairman will condescend so low in blackmailing her Executive chairman who by all the justifications, she ought to address as her boss of trying to have a canal knowledge of her.
For the records, Hon. Clinton Ebere is happily married to his delectable wife and is blessed with adorable children, then one will ask why trying to force his Deputy Chairman to an illicit sexual activity? How can a man who is being adequately taking care of by his beautiful wife will bent on indulging into any sexual activity with his Deputy?
The whole world should be alerted of the reason behind all those baseless allegations. The Deputy Chairman is embittered because all her attempt to frustrate the good works currently going on in our Local Government Area was abortive and there is no other way of her venting her anger except through cheap blackmail and hiring of social media warlords to demean the impeccable and astute character of Hon. Clinton Ebere.
She persuaded the chairman to allow her appoint the supervisory councilor for works, which the chairman refused, but gave her chance to appoint supervisory councilor for health.
Secondly: she accused the chairman of starting a project of 150m renovation of Aba South Town Hall without giving her, her own share of the money. She used three councilors to stage a protest against the chairman, her aim was to remove the chairman and replace him.
But majority of the councilors including the principal officers passed a vote of confidence on the chairman.
After her efforts was abortive, she now lay an allegation of sexual harassment to the person of Aba South boss.
Furthermore, it's on record that the said Deputy Chairman has written an apology letter and pleaded guilty before the Executive Chairman of Aba South Local Government, Hon. Clinton Ebere through the Chief of Staff to the Executive Governor of Abia State. Prof. ACB- Agbazuere on the same issue at Government House in the presence of all the Legislature's and other Leaders in Aba South on 25th day of June, 2021, Which pictorial evidences are glaring and expository. Consequence upon this resolutions, the Deputy Chairman, Hon. Princess Peace Nwobilo hitherto continued her scandalous and character deformations aimed at Impeaching the Executive Chairman of Aba South for self interest.
Hon Clinton Ebere can never be distracted, he remain committed and absolutely loyal to Abia State Government under the tutelage of Dr Okezie Ikpeazu.
– Office of the Media/Publicity Aba South LGA. 4/7/2021.