As the 4th and newest baby of Ibomair, Bombardier CRJ 900, lands Akwa Ibom Soils today, we join all right thinking people of Akwa Ibom State, Nigeria and indeed the world to congratulate the visionary and focused Governor of Akwa Ibom State, Mr. Udom Emmanuel on the commendable feat.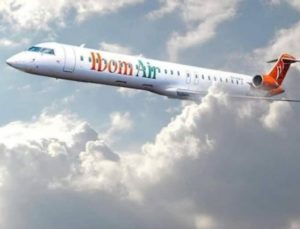 The feat which is a great leap in the growth of the aviation industry is part of efforts of Governor Udom Emmanuel in his commitment towards the diversification of economy to enhance the post COVID-19 Economic Reconstruction and Recovery.
This Ibomair's Bombardier CRJ 900 aircraft, the latest addition to the fleet, is very unique as it comes fitted with High Efficiency Particulate Air (HEPA) filters.
Ibom Air took delivery of the airline's fourth Bombardier CRJ 900 aircraft in Lagos on arrival from Calgary, Canada at about 10:48 pm on Tuesday May 5, 2020.
Worthy of note is that, the newest baby of Ibomair with registration number 5N-BXP, made its maiden commercial flight in May 2014 which
makes Ibomair to continue to operate the lowest average fleet age amongst Nigeria's airlines.