A widow, Mrs Ifenyinwa Okechi, has cried out for justice after her late husband's house in Ubahangwu Etiti Orsu Autonomous Community in Orsu Local Government Area, in Imo State, was said to have been demolished by her late husband's younger brother, whose name was given as Mr Simon Okechi.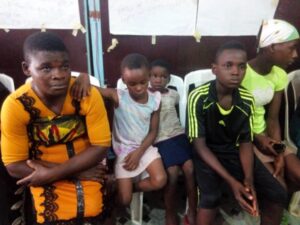 Mrs Okechi, a mother of five children while narrating her story in Owerri, claimed that the reason for which her house was demolished was that she refused to marry Mr Simon after she was severally forced to do so.
The widow added that as a result of the demolition of her house, she and her five children had been subjected to abject poverty as well as homeless and they now beg for food to eat as many of their belongings were destroyed during the demolition.
She sais, "I did not do anything to him, just like that my late husband's young brother Simon Okechi, called some young people and they demolished the house of my late husband where I and my five children sleep. At first, he asked me to allow him to marry me and I refused because I don't love him. Since that time my husband died, he has been threatening my life and my children and sometimes he will say that he will kill us and we did not do anything to him.
"Because I refused to allow him to have me as his wife, he forcefully took over the house my husband built at Benin, he drove us out of the story-building and put tenants there. Since then, he has been collecting the rent and forced us to go to the village and stay, upon that he has been threatening us. I do business as a food vendor and I use it to feed my five children and send them to school and take care of other responsibilities.
"My pains now, is that during the demolition I lost everything in that house including cooking items and equipment I use to do my food vendor business including the bags of rice, N300,000, pots and utensils, motorcycles, two generators. N115, 000 to be remitted to people who gave me ten bags of rice, table, wooden chairs, shoes, buckets, gas cooker cylinder, 2 mattresses, 5 coolers among others," she said.