It is no longer news that Abia State has been in the educational map of the Nation as one of the best in all levels from secondary to tertiary levels. What is news however, is that five graduates of Abia State University, Uturu have again put the ivory tower and the state in the national map. They showcased to the Nation that they were not only graduates in learning but also in character as they distinguished themselves at their various places of Primary assignment.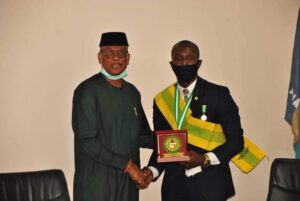 The graduates of Marketing, Optometry, Education/Chemistry and Architecture were awarded by the Presidency at the Aso Rock Villa, Abuja for coming out the best during their National Youth Service Corps days at different parts of the country.
The awardees were given automatic employment at the Federal Civil Service Commission and a scholarship to further their education to PhD level sponsored by the Presidency.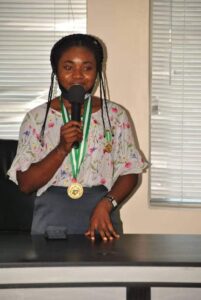 Two of the recipients of the award, Maureen Chikanma Aham and Daniel Iwuchukwu who couldn't contain their joy were full of gratitude to their alma mater, Abia State University, Uturu for preparing them for the task ahead and for the intellectual impact made on them which they said laid the foundation for their success stories.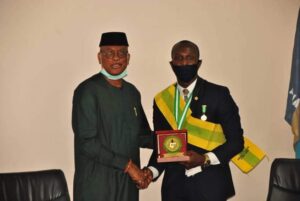 The Presidential award recipients while thanking their lecturers for giving their best to them especially inculcating in them the spirit of selfless service to humanity said the award and scholarships are a call to service and promised not to let Abia down.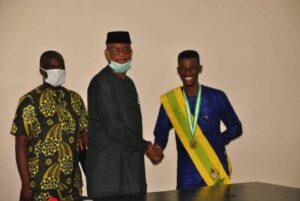 Also, Beauty Solomon, who won several awards from the community, to Local Government, State and Federal levels said her decision to impact her place of primary assignment stems from the need to solve a problem in the community which she alluded to the good virtues imbibed on her by her lecturers at ABSU.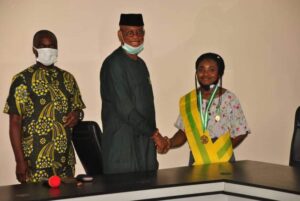 Receiving the recipients, at the University Council Chamber, the Vice Chancellor, Professor Onyemachi Ogbulu who was elated said more than ever before he is excited that the graduates of the institution continues to make the ivory tower proud wherever they are found, and urged the recipients not to be carried away by the success.
He reminded them that the awards were an encouragement and inspiration to do more, not forgetting that discipline, handwork and perseverance at all levels pays a great deal.
As Ambassadors of the institution he urged them not to relent but to continue to work hard to show that they merited the awards.
It will be noted that the overall best award among the 110 awardees was won by Anyaogu Onyeyirichi Rejoice of Department of marketing of the Abia State University, while others are
-Iwuchukwu Daniel Chimankpam- Architecture
-Nwankpa Solomon Beauty – Marketing
– Aham Maureen Chikanma- Education/ Chemistry
– Onyeachu Chimnacherem -Optometry