One day after flaunting a car on Facebook, Okiemute Oghenekpaobo Deborah an undergraduate of Benue State University Makurdi has been arrested by the Economic and Financial Crimes Commission.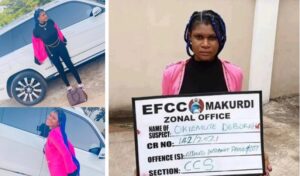 According to reports by EFCC, on Saturday May 1, 2021 Okiemute was arrested alongside three other people as members of a syndicate of internet fraudsters in Makurdi, Benue State.
The suspects, Gideon Damisa, Sunday James, Friday Ebosele and Okiemute Deborah, were rounded up by operatives of the Commission following intelligence report on their alleged criminal activities in and around Makurdi metropolis.
At the point of arrest, the principal suspect Gideon Damisa was in possession of a Mercedes Benz GLK 350 2010 Model, 1 iPhone, 2 Pro Max, 2 Infinix phone and ATM cards, among others. EFCC also stated on their website that Okiemute and other suspects who are members of the syndicate would soon be charged to court.
Following Efcc's report, Okiemute's followers on Facebook have aired their views about the matter on her Facebook page.
Read what some of them had to say below,
Adio Jenrola Queen Aduke wrote, "As a young Nigerian youth, just wear rag and carry wheelbarrow into the market, EFCC will like you and congratulate you."
Oyin Kansola wrote, "Fake life everywhere."
Supdiddi wrote, "So, any young person that looks good in Nigeria is instantly into Yahoo."
Chikeddon wrote, "This is the type of arrest I like, when you get them, make sure that slay queen that is encouraging him to do fraud also gets arrested. Stay away from fraud."
Adeyele_ie wrote, "EFCC should head to Aso Rock. The big fishes are there. Let these sardines go. They're all learning from the top."
Pweetie_didi wrote, "The rate at which EFCC picks people up, one would think Nigeria is a functioning country."