Abia women group under the aegis of Local Government Ladies' Association ( LOGLA), the umbrella body of ladies working in the Unified Local Government system in Abia state has commenced campaigns for mobilisation of support for the PDP Governorship Candidate in Abia State, Prof Eleazar Uche Ikonne.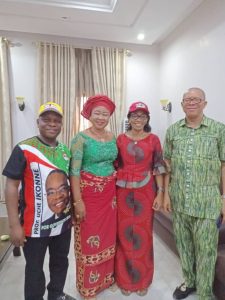 This was announced by the State President of LOGLA Mrs Irene Ekwu when the State Executive and Chairpersons in the 17 Local Government Councils in Abia paid a solidarity visit to Barr Mrs Uzoamaka Uche Ikonne, wife of the PDP Governorship candidate at their Umuahia residence on Tuesday 5th December,2023.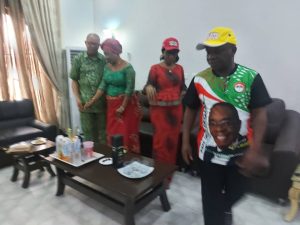 The State President of LOGLA, Mrs Ekwu who led all members of the State Exco and the 17 Local Government Chairpersons, stated that they have come to announce the support of over 20,000 women working in the Unified Local Government system for Prof Ikonne as the next governor of Abia State.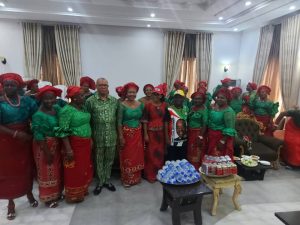 She affirmed that after assessing and analysing all the Governorship Candidates in the 2023 election in Abia State, Prof Ikonne stood out as the only candidate that has the knowledge, experience, exposure and competence to address the challenges of workers in the Unified Local Government system and the entire Civil and Public Services of Abia state.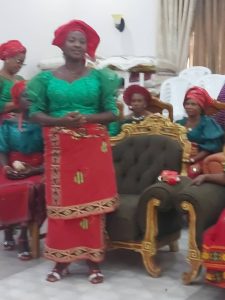 The LOGLA State President expressed confidence that only Prof Ikonne as former Vice Chancellor and his wife Uzoamaka Uche Ikonne as Permanent Secretary, Ministry of Justice and Solicitor General of Abia state, have first hand knowledge of the needs of the bureaucracy and can ensure timely and proper payment of workers' salaries and allowances, gratuities and pensions without excuses.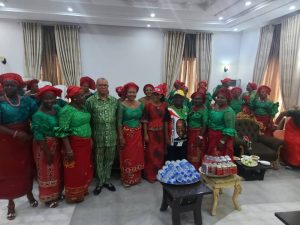 She stated that the Incoming governor and his wife have spent all their lives living and working in the Abia state civil and public service, All other candidates have never worked in the public service and will make excuses.
According to the President, LOGLA is convinced that Prof Ikonne will run a knowledge based government, free of sycophancy and mediocrity.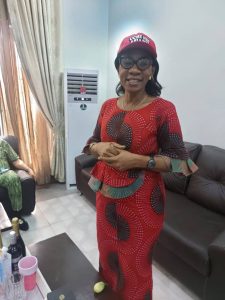 Responding, Barr Mrs Uzoamaka Uche Ikonne commended the leadership and members of LOGLA for keying into the Uche Ndi Abia project. She assured them that the Uche Ikonne administration will usher in a new Order that will create a greater and prosperous Abia where everybody will be taken of, and workers will not only receive their Salaries but also on time. Under the policy of " Participatory Governance" his government will partner with LOGLA and other civil servants to achieve a reformed, result oriented and fully motivated bureaucracy that will be proud of their jobs. Mrs Ikonne stated that the administration will build Day-care Centres in the various local governments that will take care of the children. She informed them that government will run programs by LOGLA to reach and assess the needs of women and children in rural areas. Barr Ikonne who was President of International Federation of Women Lawyers and now Solicitor General of Abia State, assured the ladies that she already has an inventory of the problems and challenges of women and children in Abia state, especially, widows and vulnerable children.
Mrs Ikonne finally called on LOGLA to extend their support to all PDP candidates running for various offices in the State including President, Senate, House of Representatives and State House of Assembly, 5 OVER 5.
Earlier introducing the leadership of LOGLA, the Chairman, Abia state Local Government Service Commission, Chief Victor Azumara, commended Mrs Ikonne for her show of love and humility in cheerfully receiving the ladies on shortest notice without protocols. He described Prof Ikonne and his wife as accomplished public servants and role models who reached the peak of their career. He said that Abia people are happy and proud that people of their pedigree of service and accomplishments yielded themselves for further service to Abia state. He cited the full fulfilment of Prof Ikonne's OUR STORY MUST CHANGE manifesto in Abia State University as evidence that Prof Ikonne will accomplish manifesto of Abia TIGER ECONOMY for the prosperity of Abia state.
In his brief comment, the former Deputy Speaker Abia state House of Assembly and member that represented ABA North/ABA South Federal Constituency, Rt Hon Uzo Azubuike extolled the leadership of LOGLA for joining other well meaning Abians in the Uche Ndi Abia victory train. He said that the greatest achievement of the governor Dr Okezie Ikpeazu and the Rt Hon Asiforo Okere led PDP in Abia state, was to allow God to use them to support the emergence of Prof Ikonne as the PDP Governorship candidate. Hon Uzo Azubuike described Prof Ikonne as a focused honest and patriotic personality who has zero tolerance for excuses and always surpasses his set target. He cited Prof Ikonne's sterling performance as Vice Chancellor of Abia state University where he reversed the trend and made ABSU a choice and reputable University in Nigeria. He assured that Abia state under the pillars of the TIGER Economy in a Participatory Governance will create a new, prosperous and greater Abia where economic prosperity, inclusiveness, social cohesion, equity, equality and justice shall reign.
Video