For some years now, the Abia State Polytechnic that was established in 1992, has been facing litany of challenges which had affected the fortunes of the once vibrant institution.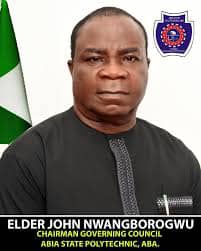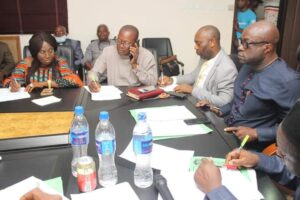 Among the myriad of challenges confronting the school are huge backlog of salary arrears owed workers, decline in student population resulting in drastic reduction in the school's Internally Generated Revenue (IGR).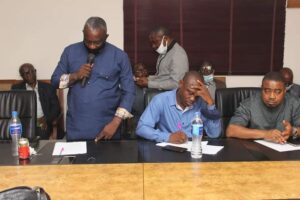 The Gov. Okezie Ikpeazu led administration had few months ago, organised an education summit with the aim of finding workable solutions to the numerous problems facing the school.
The summit which attracted stakeholders including the National Executives of the three unions in Abia Poly, was held after the appointment of the current Rector, Dr. Okorie Kalu Osonwa.
Hence, on full assumption of office, Dr. Osonwa hit the ground running by initiating measures aimed at returning the school on the path of growth and development.
Like a man racing against time where every second counts, the Rector told www.newsmirrorng.com in his office that, all the measures being taken are geared toward boosting the school's IGR and reducing overhead cost.
He admitted thus;
"Government cannot be everywhere, so i am seeing Abia Poly in the future to be self reliant. We can sustain ourselves whether the government is there or not", Dr. Osonwa told our crew".
Recall that few years ago, Abia Poly was the dominant player in the tertiary education sector, despite the obvious that Aba is a commercial town.
For instance, five years ago, the student population was hovering between 15,000 to 18,000 and that has changed following the establishment of private Polytechnics in the town, coupled with the challenges faced by the institution.
Now, the school once again has an appreciable size of student population, which is gradually increasing due to the new measures for growth and development, even as they grapple with huge monthly wage bill.
The school still mobilizes students of the institution for the mandatory one year National Youth Service, while concrete efforts are being made to get accreditation for all the courses offered by the institution to enable all the departments to participate in the national assignment.
This challenge has been placed on the front burner as the school has received the nod from the National Board for Technical Education (NABTEB) after the team visited the school recently.
The recent accreditation excercise which has not happened for years has been done and dusted with evaluation and presentation of reports to the accreditation committee.
Thanks to the new Rector , Dr. Okorie kalu Osonwa and the Governing Council of the polytechnic ably led by Chief John Nwangborogwu.
A new Abia poly is possible and the process has began already. The result of these loudable achievement will be expected increase on students enrollment and an improved IGR ( Internally Generated Revenue) that will in turn help the school take care of pressing issues and return it finally to the part of glory.