The Blessed Child Study Center located at no.36 Clifford Road Aba has been seal on the instrucrion of the Honourable Commissioner, Ministry Dr KCK Nwangwa. The school was seen operating in total violation of the lockdown order by the Abia State Inter Ministerial Committee on Covid -19 which directed schools across the state to close untill when normalcy returns following the outbreak of the Novel Corona Virus Pandemic.
The proprietress of the school One Mrs. CHUKWU BLESSING was caught by a team of Aba South Area Inspectorate of Education teaching a group of seventeen (17) students in an unventilated classroom without observing social distancing despite the lockdown of schools due to the Covid 19 Pandemic. Following the tip off, the Honourable Commissioner ordered for the arrest of the proprietor. The Ministry had repeatedly warned proprietors of private schools and stakeholders in the education sector not to toil with the lives of Abia school children in a bid to make quick money.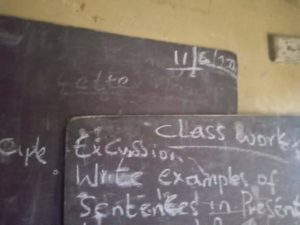 Parents are also advised to take the health of their wards seriously in order to prevent the spread of the virus to the vulnerable children this is given the fact that in recent weeks Aba has been declared as the epicentre of the virus by the state government and the Ministry of Education as a responsible organ of government will not allow the lives of our children to be put in danger.