The Member Representing Aba South State Constituency at the Abia State House Of Assembly, Hon. Obinna Ichita has Declared his intention to run for the ABa North and South Federal Constituency bye Election.
Hon. Obinna Ichita has also Purchased his Nomination and Expression of interest Form to Contest the Election.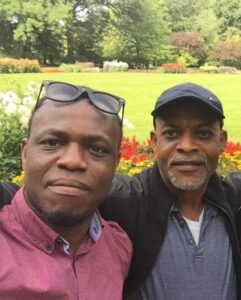 Below was a post he made on Facebook.
Dear constituents and friends,
the Abia political space has remained heated of late, due to the up coming bye election for our Federal Constituency.
This is a consequence of the demise of Rt.Hon. Ossy Prestige. We are still mourning the tragic loss of our representative and the news of the date of the bye election added injury to our pain. It was as if INEC was insensitive to our loss.
Not long ago, I cautioned against the seeming loss of our sense of humanity while approaching the issues of politics amd political considerations; I even went further and stated that I wasn't interested " in dirty permutation". Some political actors seemed to have cashed in on that are busy planning a model that they know, is not in the best interest of our Federal constituency.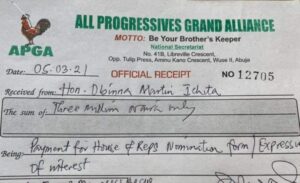 The Aba North and South Federal Constituency is numerically, the first constituency in the federation. Hence, we require a robust representative in the green Chamber if we must sustain the legacies of Hon. Ossy Prestige.
It needs to be mentioned however, that we can never have another Rt. Hon. Ossy Prestige. Ossy Prestige is irreplaceable ! We can only uphold and build upon his legacies.
I have observed the debate on the parameters on which a suitable representative for our dear constituency would be assessed. Many commentators across party lines agree that Aba North and South Federal constituency requires in this critical time, a representative with the requisite intellectual sophistication and social capital needed to fill the gap.
These would in no small measure, help to smoothen and quicken the learning of legislative business at the national level.
Not long ago, this author cautioned via a Facebook post that it was immoral and a mark of gross insensitivity to place human lives (or the loss thereof) below political considerations. I even went a step further and declared that I had no interest in the "dirty permutations".
However, as a native of Umuokpoji-Aba in Aba South Local Government Area and as the Honourable member representing Aba South Constituency in the Abja State House of Assembly, it is natural that I take interest in matters that concern our dear constituency. In fact,it is an obligation that the overall development of our society and environment be paramount to us.
Dear Constituents and fellow party faithfuls, let me use this opportunity to intimate you on how we have fared so far.
You elected me under the Platform of our dear party, The All Progressive Grand Alliance (APGA), as a member of the 7th Abia State House of Assembly in in March 2019.
We were sworn into office on the 10th of June same year. Our victory was voided by the tribunal and we continued a long litigation process that ended in a rerun election on 25th January, 2020. To the glory of God. APGA retained the mandate !
Remember that just 2 months after the rerun election, we had a long period of lockdown.
During the lockdown, we intervened and provided food items and financial assistance to our constituents in need.
I am aware that we all still remember he we rallied round our fellow constituents during the Oko Jombo fracas. Apart from physical intervention to calm frayed nerves, we donated relief items to the victims of the Oko Jombo fracas.
That we graded over 35 roads in our constituency is no news. A four classroom block at Umuagbai West Primary school Aba South is as a result of our intervention and persuasion.
As a state lawmaker, I attracted the presence of the Federal Fire Service to our dear Abia State.
From my personal resources, I had built a 63 bed capacity hospital with a separate Accident and Emergency section and Dialysis section.
I didn't say I will build. I have built! We are expecting the arrival of the equipment. Details of the hospital project is best reserved for another episode.
My dear friends, in view of the fact that the shoes that Rt. Hon Ossy Prestige left is not easy to fill but we must not allow our constituency to go back to the era of "deaf and dumb".
The voice of Aba must be heard! That was what Ossy stood for.
In view of this, as in strict adherence to the philosophy of "okenye anaghi ano n'ulo eghu amuo na ogbu" which can be loosely translated to mean that an elder does not sit at home and watch the goat deliver in the tethers. Beyond this literal translation lies the important message that serious situations demand serious intervention.
It is against this backdrop that I, Mazi Obinna Ichita, do hereby declare to you dear friends,
that I have purchased the Expression of Interest and Normnation forms to run for the office of the member representing Aba
North and Aba South Federal Constituency at the Federal House of Representatives.
We can not fold our hands and watch our constituency not being effectively represetated or the will of the people being throw overboard. This is a task we must collectively achieve.
I call on all the good people of Aba north and Aba South Federal Constituency and beyond, to join us to retain,promote and defend the legacies of Rt. Hon. Ossy Prestige !