The Labour Party's senatorial candidate for Abia South senatorial district, Engr Chinedu Onyeizu, says going by his track records of accomplishments and the poor individual performances of Okezie Ikpeazu as governor and Enyinnaya Abaribe's poor representation in 16 years, the election for the next senator to represent Abia South will be an easy win for him and the Labour Party.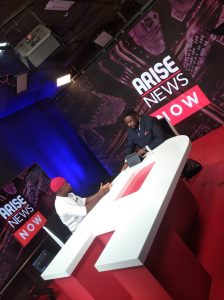 Fielding questions in an interview on Arise TV on Saturday, October 22, 2022, Chinedu Onyeizu described the scenario playing out in Abia South as similar to the biblical case between David and Goliath, and said that in his own case, he would defeat two Golliats in the persons of Okezie Ikpeazu and Enyinnaya Abaribe.
When reminded that the Labour Party is not the most popular political party in Abia South, Chinedu Onyeizu said his hopes hinge on the youths who constitute over 61% of the population and desirous of quality representation which will transcend to better life for them.
He unequivocally stated that among all the candidates vying to represent the zone, he is the only one with a well-developed agenda for the district, which has five areas of focus.
As a petroleum engineer of international renown, he described the situation where Nigeria has over 38 billion barrels of crude oil in reserve and spends trillions of naira in paying subsidies to a few individuals. He reiterated his commitment to initiating bills that will ensure local refining of petroleum and the development of the oil-producing communities.
In his usual charismatic and eloquent manner, he expressed his confidence that with the new Electoral Act, he is sure of emerging victorious at the polls.
Video