The 24 members- elect of the 9th Abia State House of Assembly have received their Certificates of Return from INEC
The National Commissioner, INEC, Barr. Festus Okoye who gave the charge while congratulating the members elect at an event held at the Ochendo International Conference Centre, Umuahia reminded them of their exclusive responsibility which is to make laws and enshrine peace in the state.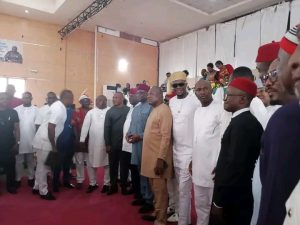 Speaking on behalf of the members-elect, Hon. Ibekwe Nnamdi Chimdi of the PDP from Bende North said the elections have been won and lost and its time for everyone to come together to enthrone peace and democratic dividends for a better Abia.
The list of the members-elect include –
1. Ucheonye Akachukwu – Aba Central (LP)
2. Nwagwu Destiny Akaraka – Aba North (LP)
3. Emereuwa Ihuoma – Aba South (LP)
4. Okoro Uchenna Kalu – Arochukwu (LP)
5. Ibekwe Chimdi Nnamdi – Bende North (PDP)
6. Ndubuisi E. Chindeu – Bende South (PDP)
7. Rowland Caesar – Isiala Ngwa South ( PDP)
8. Iheonunekwu Collins – Isiala Ngwa North (PDP)
9. Nwaeke Johnson Udoka – Isuikwuato (PDP)
10. Isieke Boniface Ndi – Ikwuano (LP)
11. Akpulonu C Solomon – Obingwa East ( PDP)
12. Erondu Uchenna Erondu – Obingwa West ( PDP)
13. Obasi Ekwuruonu O – Ohafia North (PDP)
14. Nwoke Kalu Mba – Ohafia South (PDP)
15. Nwogu Iheanacho – Osisioma North ( YPP)
16. Fyne Ahuama – Osisioma South (YPP)
17. Uruakpa Chijioke – Ugwunagbo (PDP)
18. Odianya Louis Chinemerem – Ukwa West – (PDP)
19. Adiele Godwin A – Ukwa East ( PDP)
20. Anthony Chinasa Abiola – Umuahia Central (LP)
21. Okezie Aigustine – Umuahia East (LP)
22. Akaliro Anderson – Umuahia North (APC)
23. Obioma Emeka – Umuahia South ( LP)
24. Ume Mathias Nwankwo – Umunneochi ( LP)