The member representing, Isialangwa South State Constituency in the 8th Abia State House of Assembly, Hon. Dennis Rowland Chinwendu has debunked the rumours making round that lawmakers elected on the platform of the People's Democratic Party, PDP received gratifications from the state governor, Dr Alex Otti to allow the minority party to produce the presiding officers of the house.
Hon. Dennis, who made this known while addressing newsmen on the recent development in the Assembly in Umuahia, called on residents of the state, especially his constituents to disregard the unfounded rumour.
On the crisis rocking the house on appointment of principal officers, the lawmaker explained that the rule book of the house stipulated that the majority party would produce the Majority Leader, Deputy Majority Leader, Chief Whip and Deputy Chief Whip but expressed disappointment that the reverse was the case as the minority party hijacked the positions meant for them.
He noted that the PDP produced eleven members, Labour Party had ten, Young Progressives Party had two while APC produced one member in the house and wondered why things would be tuned upside down by the speaker of the house whom he said was duly notified through writing by different political parties on the positions.
Hon. Dennis explained that they had staged a walk out protest during plenary on three occasions to press home their grievance, pointing out that their next move was the approach the court for possible interpretations on the sections of their rule book.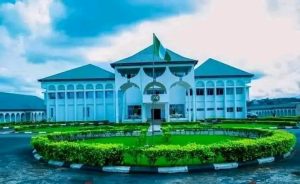 The lawmaker further called on the governor to pay the lawmakers their allowances to enable them to discharge their responsibilities effectively and expressed the hope that the current leadership crisis rocking the house would soon be a thing of the past.
Speaking to Journalists in Umuahia, Hon. Dennis promised to ensure that his tenure will bring to his people the much desired dividends of democracy through legislations, oversight and representation, describing the just concluded retreat organized for members of the State Assembly in Uyo as revealing and instructive, hence he's now better prepared and equipped to discharge his legislative duties optimally.
He made it known that his resolve to place the good people of Isiala Ngwa South State Constituency first is his priority. He noted that his widows/less privileged initiative, artisans initiatives, empowerments and developmental projects will be his top priority.
He further promise to periodically interact with his constituents on the neccessary developments and presentation of his scorecard.
UGWUMBA MEDIA.