We have not reached the promised land but we have since moved out of Egypt and also we have crossed the Red Sea.
Following the resumption of duty by Hon. Israel Amanze (Izybest), the scheme of things in Abia ADP have started to change for the better. Of course all and sundry will be eager to know the magic wand Hon. Israel Amanze is using to achieve this change in a very short time. This gives credence to the reason why the amiable Governor of Abia State Dr Okezie Ikpeazu PhD sought him out and appointed him(an agricultural expert and technocrat).
Hon. Amanze whose knowledge in Agriculture is versed and exponential, on resumption of duty at ADP chose to discover the real status of the once highly rated organization.
He embarked on a fact finding tour of all Agro Service Centres and area offices. To his surprise almost all these facilities were literarily dead and abandoned with giant trees growing out of many abandoned building as seen below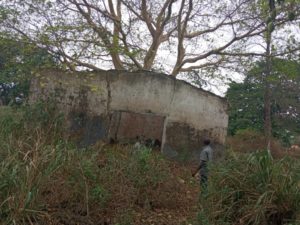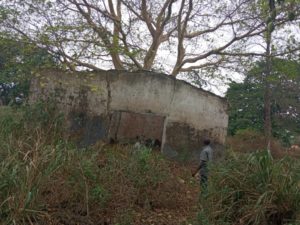 This tour offered the ADP PM and his team the opportunity to observe the numerous task and challenges faced by the workers in the various zones which was a catalyst that quickens the positive transformation in ADP.
In a sharp reaction Hon Amanze applied to the Governor for an approval to reestablish the boundaries of all ADP facilities in collaboration with the state ministry of lands and survey. This the Governor granted and action started immediately.
Hon Amanze requested governor's approval to seek partnership of both private and governmental institutions to develop these Agro service Centres and approval was also granted.
Consequently the new ADP management has set out to establish Medium scale cassava, Rice and oil palm processing industries in these Centres. The recent attraction of a Shoghai farm facility in association With hon Uko Nkole and Anambra IMO River Basin Dev Authority is a high point of these developments.
The proposed Shonghai farm facility has already received additional 100 hectares land donation from OSU Abam people in addition to facilities being renovated at Ndi Oji/Ndi Ebe Abam.
Many investors are now queueing up and queueing into the rural industrialization project.
The new management has also recovered ADP tractors abandoned in Ebonyi state and the are being refurbished for work.
ADP staff are receiving great motivation for job.
ADP is partnering with Maize Association of Nigeria to present over 4000 Abia maize farmers for CBN anchor borrower's scheme and over 1000 for cassava empowerment.
Indeed many agricultural programs are germinating and growing up daily at Abia Adp.
We can only but support and pray for the new management under Chief Amanze so that God will grant him more strength and wisdom to succeed, to God be the Glory.
His desire to bring out lasting solutions to the problems of mechanized Agriculture and sanity to the system,the Abia ADP PM discovered an abandoned ADP tractord kept in far away Ebonyi state as if the was not enough, the ebullient team of Abia ADP apprehended and prosecuted unscrupulous elements who illegally converted the equipments of Abia State ADP into their own private property.
In the issue of workers active compliance, the adminstration of Hon. Israel Amanze has rejuvenated the trust of Abia ADP Staff towards the actualization of the targeted objectives.
In the areas of provision of agricultural loans and grants Abia ADP is working harmoniously with the Central Bank of Nigeria (CBN) to provide loans and grants to assist farmers in the maize and cassava farming which will lead to a bountiful harvest and put smiles on the faces of Abia farmers.
We are only praying that God will grant the current administration in ADP the wisdom and knowledge to take Abia ADP to the next enviable height.