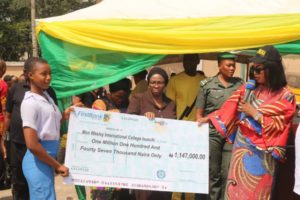 Hon. (Barri.) Nkeiruka Onyejeocha, the lawmaker representing Isuikwuato/Umunneochi Federal Constituency of Abia State at the National Assembly, has doled out over N12 million to register candidates for the 2020 West African School Certificate Examination (WASCE) in 16 public schools in her constituency.
Onyejeocha presented symbolic bank cheques of various sums, ranging from N333,000 to N1.591 million, to the benefitting schools at a brief ceremony in her Ngodo Isuochi country home in Umunneochi Local Government Area on Friday.
Speaking in an interview with newsmen, the lawmaker said that she was moved to undertake the gesture after she encountered a young lady in her area, who claimed to have been impregnated by a man, while she was soliciting for funds to register for WASCE.
She said that she took pity on the lady and decided to embark on the project, realising that there were many people of her kind, who could not write WASCE because their parents and guardians could not afford the fee.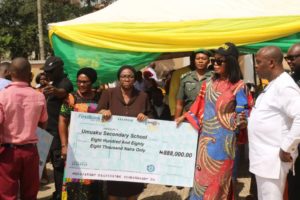 Addressing principals and students from the benefitting schools, Onyejeocha said that the gesture was designed to help the poor in her constituency.
She warned that it should not be misinterpreted as a political gimmick.
I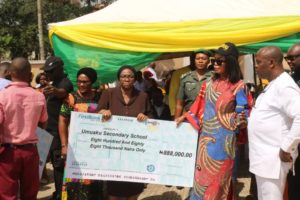 She said that she could have quietly distributed the cheques but decided to make it public so that people would not ascribe her achievements to others.
The fourth term legislator said that she had attracted a lot of democracy dividends to her constituency but failed to publicise them.
"This is because as a Christian, I believe that whatever I did to assist my fellow human being, I did for God," she said.
Onyejeocha said that because she did not publicise her projects in the media, her political opponents continued to accuse her of non-performance.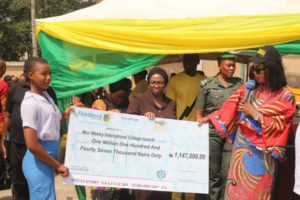 Speaking further in an interview with newsmen on the sideline of the event, the Deputy Chief Whip of the House of Representatives, said that her priority now was to effectively deliver on her campaign promises to her constituents.