The Pro Chancellor University of Calabar and two time Senator that Represented Abia Central in the Senate, Distinguished Senator Nkechi Nwaogu CON PhD has felicitated Nigerians as we celebrate our 60th Independence Anniversary.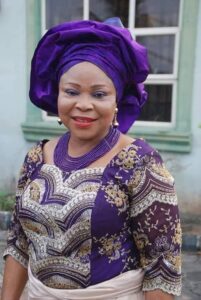 In a Congratulatory message personally signed by her.
It reads
Happy Independence Day Nigerians!!!!
With heart filled with joy I and my family are wishing all the good and amiable citizens of the Federal Republic of Nigeria a happy Independence day celebrations.
Exactly, sixty years ago, the struggle and fight for an Independent,. sovereign state was actualized as the British flag the Union Jack was lowered down and the Nigerian Green White Green was flown.
Sixty years after independence, we have numerous reasons to celebrate our fatherland most especially that we remains an indivisible sovereign entity despite all difficulties and challenges we have faced as a nation.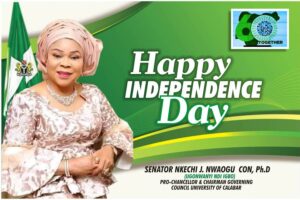 Sixty years after independence, we are heading towards perfection.
I will not fail to acknowledge the pragmatic leadership roles of our President, the Father of the Nation,His Excellency President Muhammad Buhari GCFR, indeed our God given President has done tremendously well since the last five years. The introduction of social investment programs like, N-Power, Tradermoni, NALDA, Federal School Feeding Scheme, National Welfare Programme, National Survival Programme, National Federal Loan Scheme and others too numerous to be mentioned gives credence to President Buhari as an exceptional and God Fearing Leader.
As a nation, we might not have achieved it all but we have gone a long way towards ameliorating the social problems that we are encountering as a nation. All hands should be on deck to build the Nigeria of our dream.
Finally, I congratulate all the citizens of our beautiful country Nigeria on the celebration of our 60th Independence Day Anniversary and I also pray that God will continue to protect and bless our nation Nigeria to attain the next greater heights
It will surely get better.
Senator Nkechi Nwaogu CON PhD.
(Ihe Abia)
(Ugonwanyi ndi Igbo)
The Pro Chancellor and Chairman Governing Council University of Calabar