Lawmaking is a serious business that should be handled by experienced, dedicated and committed people.
National Assembly is not for rookies it is for people with proven track records who have distinguished and navigated in all the rudiments of life.
In the National Assembly, the sole business is determined by the party at the center and is highly influenced by the winner takes it all policy.
Electing a candidate from the opposition party is counterproductive and it will end up making no benefit to his or her Constituents as they will complain of misrepresentation for four solid years.
A legislature elected on the platform of APC can not be compared in areas of attracting of Democracy dividends to a candidate elected on the platform of an opposition party because of politics attached to it.
Legislative business and it's benefits will only be beneficial to CONSTITUENTS who elected a candidate from the ruling party than a constituency that voted in a candidate from the opposition because it sympathy or primordial sentiment.
Voting in a high ranking Senator from the platform of the ruling party is sine qua non in attracting the much desired democracy dividends. Of course they won't tell us this because of obvious reasons.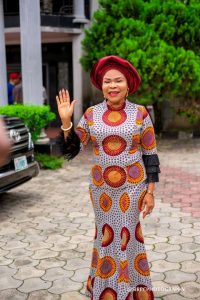 In the National Assembly, a parliamentarian with high network of friends across-the-board is another reason we should vote in Sen. Nwaogu. Ugonwanyi ndi Igbo has the wherewithal and capacity to deliver with interpersonal skills and relationship with most National Assembly Members, Abia Central Senatorial District will be pride of Abia State.
Sponsoring of bills in the National Assembly is made easier when a legislature is from the ruling party. In recent times, we have been hearing about President Buhari giving approval to some Federal Polytechnics gaining full accreditation to become a conventional Federal Universities, conversion of Federal Universities with specific areas of specialization to become full conventional Federal Universities is made easier if such bill is coming from a Legislature from the ruling Party.
Her network of friendship is across board. She will utilize her contacts effectively for the emancipation liberation, restoration, resuscitation of Abia Central Senatorial District from the shackles of misrepresentation and legislative redundancy.
There is no better time for ndi Abia Central Senatorial District to vote for Senator Nkechi Nwaogu PhD CON other than now.
For publication of your news content, articles, videos or any other news worthy materials, please send to newsmirror14@gmail.com. For more enquiry, please call +234- 808-050-9464 or whatsapp. To place advert, please call +234- 808-050-9464.