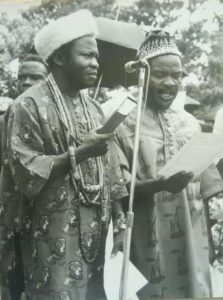 Congratulations to our great King, an indefatigable Father and a citadel of inspiration as you mark your 43rd Coronation Anniversary and accession of our revered great UKWU ancestral throne of fame on the 23rd October 1976, an era that posed wonderful significance as history and mystery were made by the occurrence of the unbelievable appearance of our Progenitor(UKWU ONYE NWEALA NGWA) and few other Ancestors in human race within Ngwa Land to facilitate the handover and coronation of a young man(32yrs plus) Dr. B.O. Enweremadu as the 13th Traditional Head of Ngwa Land. His Eminence, Eze Dr Sir. B.O. Enweremadu. PhD. Ezeukwu of Ngwaukwu, the traditional Head of Ngwa Nation, a First Class/foremost traditional ruler in the globe, very exposed and distinguished coupled with his unique character and rich Royalty style is truly a custodian of the enviable and intriguing great Ngwa cultural heritage. As an amiable and enviable King, His dignified carriage has posed collateral damages to his detractors and One can quickly put up pride in discussing the laudable roles of this impeccable Monarch in distancing/distinguishing himself from nefarious attitudes visible amidst most of the current traditional rulers. Ezeukwu as a dispenser of wisdom, an epitome of Bravery and foremost African Traditional Head upholds unique ideologies that are capable of extinguishing the sacredness of a traditional ruler and her institution as limitation/control to the rampant ness of kings and also a separation technique from most derogatory political participations for traditional rulers. He strongly insists that political functionaries irrespective of positions must accord due respect to traditional leaders especially, on aspects of homage/consultancy in the palace and kingdoms on which He has placed a remarkable standard of being a pacesetter by not appearing anyhow and made it more difficult to be pulled out on individual wills even by a president or governor from his exotic palace.
Ezeukwu has consistently reiterated on the cohesion of the traditional rulers roles as they should form a branch of the governance tier, making it the 4th tier of government.
His Eminence even before the inception of our democracy which he was part of the bakers has played magnificent roles for our sociocultural existence.
Diction fails me in dishing the deserved words that best describes your sterling qualities as the Melchizedek of our time and one of our pioneer Nigerian traditional rulers with exemplary leadership skills.
With craving your indulgence, permit me to express my unencumbered believe in this genius and Lion of Ngwa Nation(UKWU LION) by saying Happy 43rd Coronation Anniversary. May our Lord the maker of Kings grant you more wisdom, wealth, health and flourishing years. Amen.
BRIEF HISTORY OF HIS EMINENCE:
EzeUkwu attended St. Michael's School, Ahiaba Okpuala (1951-1959), Donald Commercial Institute, Ahiaba/Amapu Ngwa Ukwu (1960-1964), The Hind Homeopathic College (1970-1974), Brantidge Forest School Sussex, England (1975). He had Diploma in Homeopathic, India and had a Ph.D in Homeopathic Medicine, London, UK.
He holds Honorary Doctorate Awards in Human Relations – Bruxelles, Belgium, in Literature, India, in Arts & Public Administration, France and currently in Business administration, Abia State University.
He's the 13th Traditional Head of Ngwa Land and was coronated on 23rd October 1976. He was the former Deputy Chairman, Imo and later Abia State Council of Traditional Rulers for 15 years under the Late Eze Dr. Akanu Ibiam. Ex-Chancellor of the London College of Applied Science. Former Chairman of Abia State Council of Traditional Rulers.
He's the Grand Patron of All Nigeria Homeopathic Medical Association. Member of the United Kingdom Homeopathic Medical Association. Royal Protector for the Royal Knights of Justice. Royal Patron of the International Chivalric Order of Knights. President, Ukwa/Ngwa Council of Traditional Rulers, Abia State.
He was a Former member, National University Commission (NUC) Represented Southern Nigeria in NUC back then. He was a participant during the First Presidential Retreat on Security Matters. Member Traditional Rulers and Eminent Persons, Peace and Unity in Nigeria. The Grand Sovereign Dynasty Hospitaller, Order of St. John Knights of Malta. The Chief Executive and Managing Director, Benwems Company Nigeria Limited.
His Eminence represented the African Traditional Rulers during the African-American Cultural Festival at the City Gate of Toledo, Ohio USA sponsored by the former Imo State and Federal government in 1989. He was awarded the Glass Key to the City of Toledo, Ohio, USA.
He sponsored several constructions, reconstructions and renovations of many Primary and Secondary Schools in Ngwa-Ukwu Kingdom, has been giving educational scholarships to Nigerian sons & daughters since 1976 – date.
His Eminence is credited with making Traditional Institutions throughout Africa, elevated, revered and valued once again.
HAPPY 43RD CORONATION ANNIVERSARY.
Long live His Eminence
Long live Ngwaukwu
Long live Ngwa Nation
Long live Abia State
Long live Nigeria
Ala Ngwa Nwere madu.
PRINCE BRAVE IKE ENWEREMADU.