HIPDET UNIVERSITY & BRITISH AMERICAN BUSINESS SCHOOL NEW JERSEY, USA, NIGERIA CAMPUS, ABUJA CONFERS HONORARY DOCTOR OF HUMANE LETTERS ON Bishop Emeka Nwankpa and 6 others today 3rd july,2021.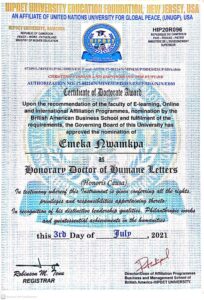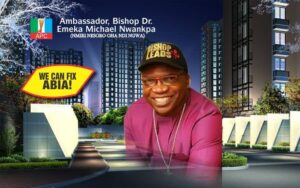 HIPDET UNIVERSITY NEW JERSEY, USA during her convocation/ Matriculation ceremony well attended by the high and mighty in the society today in her Abuja Nigeria graduated students in various faculties and awarded Honorary Doctorate on Distinguished Nigerians.
In his speech, the country Representatives of the HIPDET UNIVERSITY, New Jersey, USA, Professor Godwin Paul described the feat the school has achieved in little time as born out of discipline and hardwork. He further described Bishop Emeka Nwankpa as a pillar of support for the institution and lover of Education.
Bishop Nwankpa who was represented by one of his Aides thanked the management and students of HIPDET UNIVERSITY for finding him worthy of her honours and promised to continue to support the school.
To God be the glory.