NOT less than 40 soldiers were reportedly killed during two separate attacks that occurred between the Army and the Boko Haram insurgents in Kumala village along Maiduguri – Damboa Highway, Borno State, The ICIR learnt on Wednesday.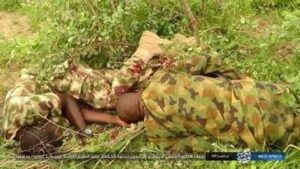 The first incident allegedly took place on June 27, when a team of soldiers escorting a convoy of travellers were attacked by the insurgents, after handling over the passengers to another military detachment at an exchange point in Kumala village, near Bulabulin along the Damboa highway to Maiduguri.
12 soldiers were said to have died during the June 27 attack. A similar report put the casualty figure of the military to at least nine soldiers and two Civilian Joint Task Force (CJTF). It claimed 20 insurgents were killed during the incident.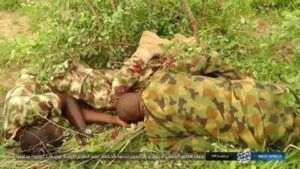 On Tuesday, July 7, 10 days after the first attack, a team of soldiers from the 25 Task Force Battalion and Sector 2 Special Forces on patrol were allegedly ambushed at the same Kumala village by Boko Haram fighters.
The incident also led to the death of 28 soldiers.
These imply that 40 soldiers, according to our sources reportedly lost their lives in the separate attacks within a space of 10 days.
A military source who witnessed the first attack said Kumala village has been a central location where soldiers do passengers transfer after escorting civilians arriving from Maiduguri, and those from Damboa to proceed on their respective destinations.
"We escorted travellers going to Damboa from Maiduguri while the soldiers in Damboa escorted travellers coming to Maiduguri," the source stated.
"Usually, we would stop at the exchange point in Kumala village near Bulabulin, where we would hand over the travellers from Maiduguri to the soldiers from Damboa and then receive from them the travellers from Damboa to bring them to Maiduguri."