Ahead of the APGA Primaries to present her flag bearer for the upcoming Aba federal constituency bye Elections
The member Representing Aba South in the state house of Assembly, Hon Obinna ICHITA has stepped down for the race of the APGA flag bearer of the Aba North and South Federal Constituency.
A bye Election in Aba Federal Constituency was necessitated by the demise of Rt. Hon. Ossy Prestige.
Harvest of Tears as Family announces the demise of Rt. Hon. Ossy Prestige
According to an official release on his Facebook handle monitored by Newsmirrorng
It reads
Dear constituents and friends,
the events of the previous days have revealed a lot: the level of bitterness in our politics.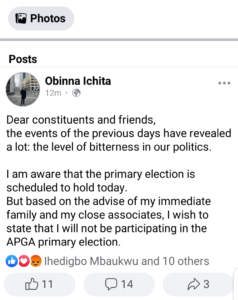 I am aware that the primary election is scheduled to hold today.
But based on the advise of my immediate family and my close associates, I wish to state that I will not be participating in the APGA primary election.