Hon. Chief Israel Amanze a Board of Trustees Member of Maize Association of Nigeria (MAAN) South East and Program Manager Abia State Agricultural Development Program has called on the people of South east to key into agriculture especially maize to reduce youth unemployment within the region.
Chief Amanze made this call while addressing journalist at the just concluded unveiling of 2nd maize Pyramid by President Muhammadu Buhari held in Kaduna state, saying that MAAN and other small holder farmers cultivates 1-5 hectares which makes Nigeria to become largest producer of maize in Africa and 11th position in the world.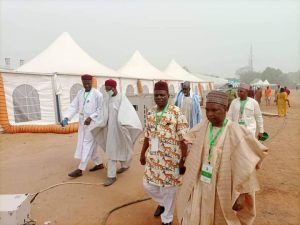 MAAN Board of Trustees Member (South East) Hon. Chief Israel Amanze and other delegates arriving at the venue of 2nd unveiling of National Maize Pyramid in Kaduna States
The MAAN Board of Trustees Member said the contributions of the people of South East members of Maize Association of Nigeria MAAN at the 2nd unveiling of the maize pyramid and the youths engagement to the process indicate that South East really need to improve more in maize production to attract this raising of pyramid in the region as well as creation of jobs for the youths within the region.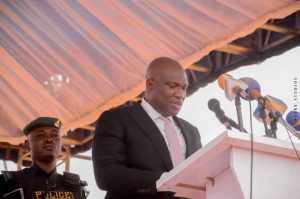 According to Amanze "Though we did our best at this 2nd unveiling of Maize pyramid here in Kaduna, South East especially the youths should engage themselves in agriculture mostly in the production of maize, and am convinced that if the percentage of youths participations in agric. production our participation will increase future participation in this kind of event. and I want to call on all maize farmers in South East to join the MAAN .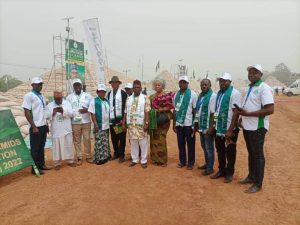 "I urge the people of South East to use this opportunity and key into agriculture especially now that government at all level encourages those who are willing to go into agriculture through provision of credit facilities and loans, they should see it as the best available means of employment which will as well support food sufficiency in Nigeria" Chief Amanze added.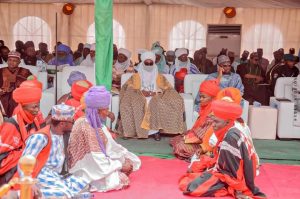 In his keynote address at the event President Muhammadu Buhari represented at the unveiling by the Minister of Agriculture Dr. Mohammed Abubakar said the unveiling of the maize pyramid is part of the objectives of his Administration for the country to be food and nutritional secured.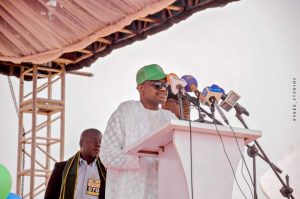 Representatives of President Muhammadu Buhari and CBN Governor Mr. Godwin Emefiele speaking at the unveiling of 2nd maize pyramid in Kaduna state
He further said the unveiling of the pyramid will as well tell the good story about the Nigerian maize farmer with the support of various support programs like the Anchor Borrowers' Program of the Central Bank of Nigeria (CBN) which has helped in closing the gap between supply of maize grains and its demand by domestic and industrial users.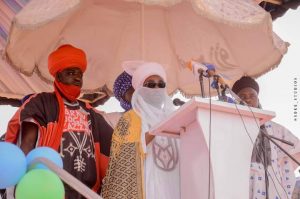 Speaking at the ceremony the Central Bank of Nigeria (CBN) Governor Godwin Emefiele represented by Director Development Finance Department Mr. Philip Yusuf noted that a total of 245,913MT was aggregated from the 2020 wet and dry season harvest from selected Prime Anchors, out of which a total of 232,898.55MT have been released.

South East delegates to the 2nd maize pyramid in a group photograph with the Board Member MAAN (south East) Hon. Chief Israel Amanze in Kaduna recently
The CBN governor further stressed that the volume of maize in at the pyramid is intended to serve as stock for the Strategic Maize Reserve (SMR) to be released immediately to major millers. He noted that the nation's maize production as at today is 12.2 million metric tonnes from 10.5 million metric tonnes in 2015 when the anchor borrowers' program commenced.
Governor Nasir El-Rufai represented by the state Commissioner for Agriculture assured that the State will continue to support efforts in enhancing productivity, value addition food security and all ongoing transformations in agriculture sector in Nigeria.
For publication of your news content, articles, videos or any other news worthy materials, please send to newsmirror14@gmail.com. For more enquiry, please call +234- 808-050-9464 or whatsapp. To place advert, please call +234- 808-050-9464.