The governor of Borno State, Governor Umara Babagana Zulum has surprisingly approved the appointment of a notorious Boko Haram fighter named Aisha Gombi, as his special adviser on war against Bokoharam.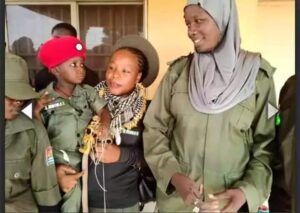 The woman who has participated in numerous missions on eradicating the menace of Bokoharam and excels in the field of fights more than many men.
Many people believe that Aisha is destined to write her name on book of history as one of the most deadliest and reliable civilian JTF.
Aisha, participated in several programs, seminars and rescue operations within Borno and every knack and cranny of the Sambisa forest.
If anyone sees Aisha, what would come to the mind of that person is, indeed "what man can do , woman do even better".
No wonder she bagged a political appointment from her state governor, in order to continue to push off the wrongful activities of Bokoharam sect and bring the peace into reign.
As a mother, she fights passionately, so that her children would live happily ever after.