Abia foremost and irrepressible philanthropist, Ncheta Elvis Omerekpe has a unique way of celebrating his birthday.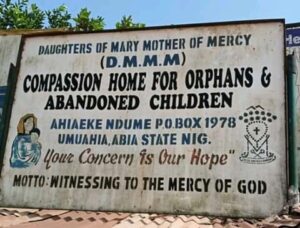 He doesn't set fireball or organise orchestra with choice drinks, where the rich would gather for the occasional fling, rather he has made every 24th November, a day of sober reflection, and to remember the vulnerable in our Hobbisan state of nature – where life is short and brutish.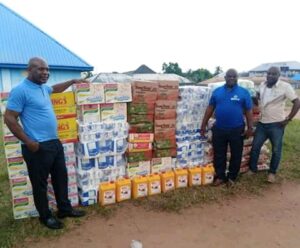 At 50, in 2019, the man popularly called ODOZI OBODO, others also chose to call him OFOR NDI IGBO, celebrated his birthday on 23rd December, 2019 with the youths, widows and physically challenged.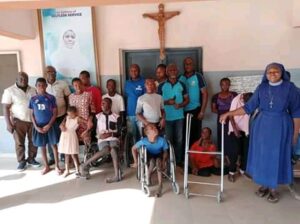 He splashed N10 Million cash to them, including various valuable items with a message – " Come up with business proposal that can make you self – reliant and channel same through the foundation for evaluation and funding – that is why Ncheta Omerekpe Foundation exists.
However, this year, though not physically present, he sent Ncheta Omerekpe Foundation members to commemorate his birthday with the less privileged in Abia state.
For four days, Ncheta Omerekpe Foundation members visited viz:
Family Support Motherless Babies Home, Asaga, Ohafia; Seventh Day Adventists Motherless Babies Home, Aba; Total Life Orhpanage, Eziala Nsulu, Isiala Ngwa North; Compassion Home For Orphans and Abandoned Children, Ahiaeke Ndume, Umuahia; St. Vincent The Paul Centre for the physically challenged, Umuafai Ndume, Umuahia and Special Education Centre for the blind, Afara – Ukwu, Umuahia.
The people were happy for our visit, received the items we brought such as :- Bags of rice, rolls of tissue papers, Cartons of Noddles ( Indomie and Tummy Tummy), Cartons of Spagetti, Tomatoes, Groundnut oil, Cartons of Viva Detergent, Cartons of Amira tablet soap, Diapers etc
Madam Kalu Ibe, Asaga; Mrs. Joyce Chibuike, SDA Aba; Nkwachi Nwaeze and Tonia Izuchukwu, Eziala Nsulu; Sister Agatha Okechukwu and Mrs. Amarachi Ogbuji, Ahieke Ndume; Rev. Sister Jetrude Ukanwoko, St. Vincent the Paul and Mrs. Celine Ngozi Olugu, Principal, Special Education for the blind all offered prayers for Chief Ncheta Omerekpe.
The Bible says in Psalms 41: 1 -2 that; Blessed is he that considereth the poor: the Lord will deliver him in time of trouble.
The Lord will preserve him, and keep him alive; and he shall be blessed upon the earth: and thou wilt not deliver him unto the will of his enemies.
Kindly say a word of encouragement to this kind hearted, noiseless and humble young man that has been helping the needy for the past 15 years !
Prince Clinton Uba is the Director; Media and Publicity, NCHETA OMEREKPE FOUNDATION, BOT MEMBER/ BOT SECRETARY.