The presidential candidate of the All Progressives Congress (APC), Bola Tinubu, has alleged a sinister plot to cause a crisis that will lead to the postponement and disruption of the February 25 polls in Nigeria.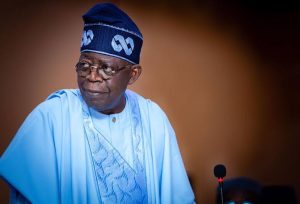 He stated this at the presidential campaign rally at the Ekiti Parapo Pavilion in Ado-Ekiti, the Ekiti State capital, yesterday, reports Channels TV.
"They want to provoke you to violence, so that election will be disrupted and postponed, and they can cunningly introduce an interim government, that's their plot. But this will backfire because we are wiser," the former Lagos governor said.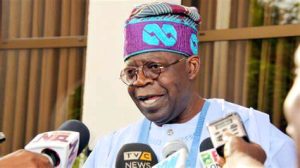 The APC presidential candidate asked the people to stand firm and resist any negative plot by destroyers.
He also advised the electorate to ensure they have their Permanent Voter Cards (PVCs) and not give in to any plot by destructive elements to install an interim government after causing an undue crisis.
Describing Ekiti people as respected intellectuals, Tinubu promised that his administration will not relegate them if elected President.
He added, "Have you collected your PVCs? They want to hoard them and not give them out to you. Continue to be on their neck please. Don't worry, those who locked up your money will also release them."
This is coming a week after Tinubu alleged plans to scuttle the 2023 general elections through fuel scarcity and naira redesign.
Addressing APC supporters in a rally at the MKO Abiola Stadium in Abeokuta, Ogun State capital, the ex-Lagos governor said there is a plot by some saboteurs to stop the 2023 general elections from holding.
According to the APC candidate, the fuel scarcity and the redesign of three naira notes won't dissuade his supporters from voting him in.
"Let fuel be expensive, only they know where they keep it. Keep petrol, keep the naira, we will vote and be elected. You may change the ink of naira notes. What you expect will not happen. We will win," the former Lagos State governor said in the Yoruba language.
He assured the people of the state that he will end fuel scarcity if elected, saying the presidential poll is a "revolution".