Nsulu Ancient Kingdom, Isiala Ngwa North LGA, Abia state was agog during the PDP State Ward Tour when the train arrived at Umuomaiukwu Primary School venue of the Ward 3 Rally.
The gathering witnessed the presence of PDP bigwigs and other notable sons and daughters of Isiala Ngwa North LGA.
In his welcome remarks, the State Focal Person on Social Investment Program Mr Chinenye Nwaogu thanked the Party, especially the Governor, for finding their son worthy of the gubernatorial ticket for the 2023 gubernatorial election in the state.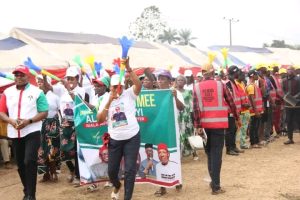 He reminded the crowd that Nsulu clan has always been in the vanguard of Ngwa and Abia development parading many notable nationalists like Late Dr Jaja Wachuku who occupied many prominent positions including first indigenous Speaker of the Nigerian House of Representatives and Minister of Foreign Affairs.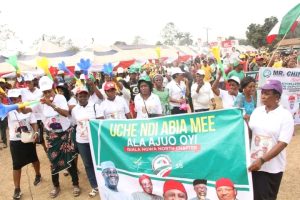 He said that Nsulu clan will stand proudly behind Ikonne not just because he comes from their place but because he has the character and qualities needed to drive a modern state.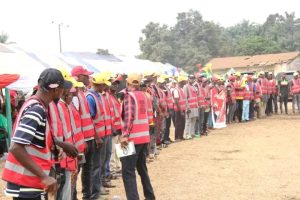 He reiterated that Prof Ikonne is a man of impeccable character whose track record in public service speaks of integrity, honesty, and prudent management of resources.
He further opined that during his rescue mission to Abia State Polytechnic, Prof Ikonne's short stay there witnessed a redemption of the ailing institution.
He said that as Vice Chancellor Prof Ikonne proved his mettle by expanding the university from one city to a multi city campus with its attendant infrastructural and human resources development.
He stated that since his return to Nigeria from his excellent studies abroad, Prof Ikonne has been a teacher in the state owned university affording him the opportunity to interact with many layers and generations of Abians, he opined that Ikonne knows Abia and Abians, he knows their successes, challenges and opportunities.
He maintained that Ikonne moved the university's ranking to its highest rating, introducing many new accredited courses. He informed the audience that during his 4 year stint at Abia State University, the school ran an uninterrupted academic calendar without any incidence of strike, with regular salary payments, he told the crowd that Ikonne knows how to financially squeeze water out of the rock to run an efficient organization.
Mr Nwaogu further stated that Prof Ikonne's firm and steadfast personality is a plus, and his wide network of institutional contacts and goodwill is what Abia needs at this time.
He asked the entire Nsulu clan to stand proudly behind their son in whose cupboard there is no skeleton.
The event was attended by other top government and party officials who spoke highly of the person of Prof Ikonne.