Nigeria's widely-admired Vice President, Prof. Yemi Osinbajo, has come under fresh pressure and citizen demand to enter the race to replace his boss, President Muhammadu Buhari, when his second and final term completes its course in 2023.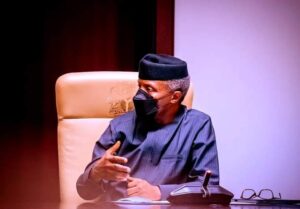 A support group, Nigerians Ask for Osinbajo, launched this week in Nigeria's administrative and commercial capitals, Lagos and Abuja, with the stated mission of persuading the Vice President, who remains coy on his ambition and political future, to heed the call of Nigerians from all across the country and declare for the 2023 race which some polls suggest he is favorite to win.
The group's convener, Engr. Kolawole Adepoju, according to a statement seen by this publication, described Prof. Osinbajo as "an individual who has been tried, tested, and has been found to possess the qualities required to accelerate the development of our Nation."
This, alongside his qualities as a "man of peace, bridge-builder, and an individual of impeccable character", makes him uniquely qualified to preside over the affairs of the country at "a very important phase in the life of our Nation", Engr. Adepoju said.
The group draws its members from seasoned politicians, trade union leaders, prominent members of the private sector, youth advocates for good governance and others who believe that the emergence of Prof. Osinbajo in 2023 is crucial to "protecting the future of the country from vultures".
The widespread support the group has enjoyed, despite only just announcing its formation, indicates favorable public sentiment towards Prof. Osinbajo making the promotion as the President of the country.
The legal professor has been at the heart of the administration's successful moves to rebound and refloat the economy following the debilitating effects of low oil prices (as Nigeria remains an oil-based economy) and the pandemic. He has also spearheaded efforts to reduce the country's huge population of the poor with targeted social schemes, all of which recorded positive impact while under his watch.